Do you know what your competitors are doing? Are you propping your business up by being one up against your competitors? In what is one of the greatest ever books written, Sun Tzu, the author of 'The Art of War,' says "Know your enemy and know yourself and you can fight a hundred battles without disaster." This book dates back to the 5th century BC and deals with military strategy and tactics, but is certainly a primer on the importance of knowing thy competitor.
The SEO strategies, keywords used, traffic, etc, of your competitors can put you in a much better position than where you are right now. Thanks to the proliferation of SaaS, you can afford a lot of these tools that provide a peek into what your competitors are doing, just pick and choose the right ones for you.
In this article, we will be talking about some of the most popular tools used to discover competitor keywords. Good search marketing campaigns cannot be done without the help of keyword research. Eliminating negative keywords, finding relevant keywords, structuring campaigns into relevant ad groups – these are the things that make up good SEO efforts and PPC campaigns.
Competitive keyword analysis is one of the must-do things that every business has to follow. It should be a part of the strategy, not an afterthought. It will put you at a great advantage and you don't have to be surprised about how your competitors are outsmarting you anymore.
Here are some of the tools that you can use to discover your competitor's keywords.
SEMrush
With more than 485 5-star ratings out of 683 ratings in the G2 forum, it is no wonder that SEMrush is one of the most popular business tools out there. It has more than 40 tools within the software and data for more than 140 countries.
SEMrush gives you an insane amount of SEO intelligence which helps you with content strategy and keyword optimization. It gives you different keyword variations that are associated with a particular root word. The tool also tells you about your competitor's backlinks. It displays it in the form of a pie chart using which you can build a successful backlink strategy for your company. It also shows the do-follow and no-follow links so you can see the quality of backlinks your competitor has.
In the below screenshot, you will see that 'Shopify.com' is the domain under review. If you look at the dashboard, there is comprehensive information on the organic and paid search results. It also shows the number of backlinks that Shopify.com has.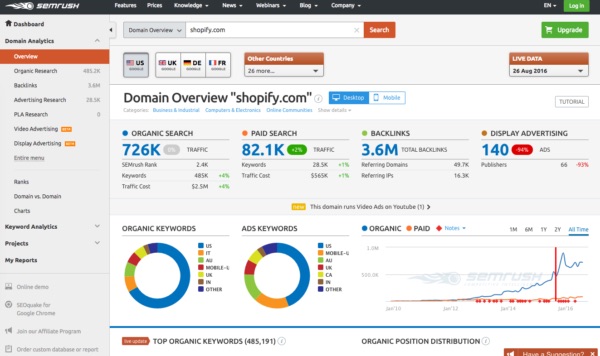 When you enter your competitor's URL, you'll be able to see the traffic they get, both paid and organic, as well as the Google ranking. It will show you the keywords that give your competitors the most traffic. You can use this knowledge and create content targeted towards these search terms.
It is also a great tool for you to get ideas for more keyword ideas. Let's say you are clicking on the keyword "b2b2 saas marketing", it will also show you more relevant keywords like "effective b2b saas marketing", "b2b saas marketing case studies", and more. This helps you with content marketing. Not only can you analyze your competitor's keywords, but you can go one step ahead and analyze your competitor's competitors. It does that by finding the amount of traffic received for the top 20 keywords used by different sites.
Pricing: They offer a free 7-day trial and 3 paid plans. The paid plans are named Pro, Guru and Businesses, they are priced at $99.95, $199.95 and $399.95 per month respectively. For more on the pricing, please click here.
Ahrefs
If there is one thing that Ahrefs boasts of, it is the fact that it brings data and metrics not only from Google, but also from YouTube, Amazon, Bing, Yahoo, Baidu and a few others. Its tool called 'Keywords Explorer' shows search volumes and the estimated number of clicks on search results. Knowing the number of clicks helps you assess if a keyword is actually worth targeting or not. Why? Because a search doesn't always end up in clicks because Google shows an instant answer. With Ahrefs, you will only be targeting keywords that get more clicks.
In the below screenshot, we have considered the ecommerce platform Teespring. Ahrefs rank of Teespring is 2839, you can notice the same on the top left of the dashboard. Ahrefs ranks all the websites in its database by the size and quality of the backlinks. UR is a metric that shows the strength of the backlinks of the target URL. It also shows the number of backlinks, referring domains, organic keywords, organic traffic, and more.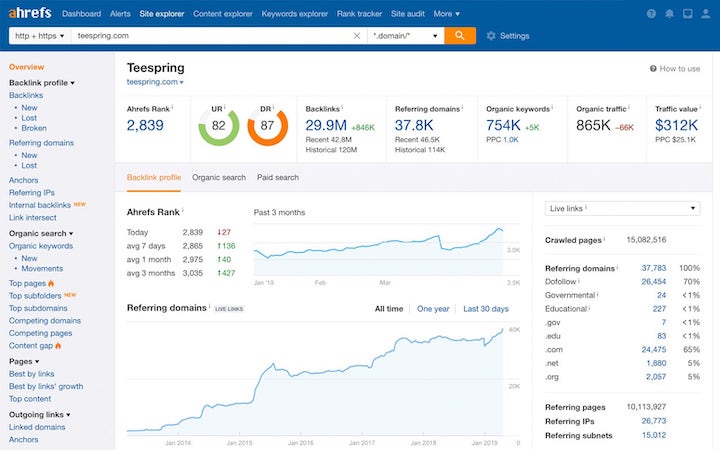 Ahrefs updates its backlink graphs daily. This means that you will be able to know the value of backlinks over time. Ahrefs' Site Explorer gives you more information to understand your competitors' website's structure along with information about which sections in their site generates the most traffic from a particular country. This level of granular information that Ahrefs gives you is a goldmine if you happen to have customers around the globe.
In the below screenshot from Ahrefs, the keyword we have used is 'best protein powder' in the US. The search volume for the keyword is 50k. If you look at the keyword difficulty, it is 24. Higher the value of this number, the harder it is to compete. Ahrefs even says that it will take 27 more backlinks to rank in top 10 for this keyword. If you see the clicks, out of the 56k clicks, more than 85% of them are organic. This means that you are better off compiling content where you can expect potential customers to reach out to you directly. If the paid clicks were more than 40%, it would make sense to spend a lot on paid ads.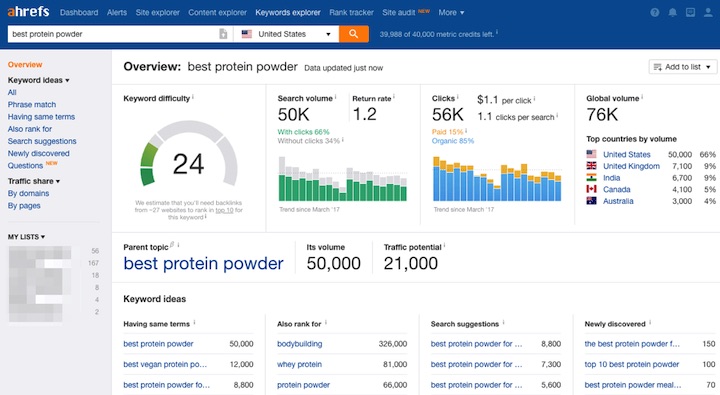 We know that low competition keywords is an area where you can get high traffic and has a lot of business potential. With Ahrefs, you can find that out and make maximum use of it. If people are paying a lot of money (high CPC) for low competition keywords, it means that there is a lot of commercial potential in it.
Pricing: Ahrefs has four plans whose pricing varies on the kind of features that are available. Their Lite, Standard, Advanced, and Agency plans are priced at $99, $179, $399 and $999 respectively. You can also get access to the Lite and Standard plans for 7 days at $7. You can learn more about their pricing and features here.
SimilarWeb
Finding out the performance of your competitor is a crucial aspect of knowing them. Your competitor's monthly traffic, information about which channel brings the most traffic and where they get those visitors is pivotal to understanding your competitors, and as a matter of fact, learning about your potential customers as well. SimilarWeb is one of the most recommended tools for doing all of this. You can add more competitors and compare traffic with them too.
Compare your website against your competitors and look how they are performing in terms of visits, session time, bounce rate, page visits, etc. With SimilarWeb, you can check out your competitor's organic and paid keywords. Find the most popular keywords, observe the traffic they generate including the ads that are associated with them. You can also find out the other websites that people visit during the same browsing session. It will give you more inputs into their likes, dislikes and what they are looking forward to from you.
We have used 'bodybuilding.com' and have chosen four competitors. You'll notice that Men's Health has the most number of visits and has more than 57% of the traffic among these companies. If your offerings are similar, it makes sense to find out their content strategy and leverage it.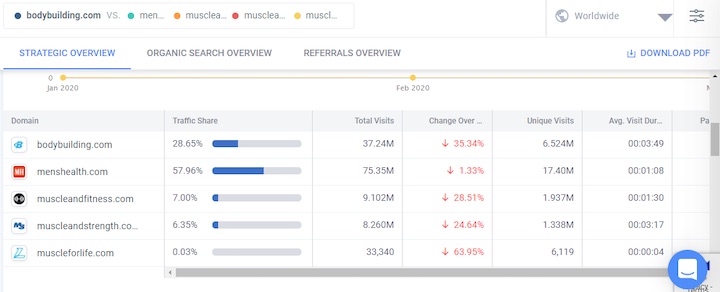 Find out the various sources through which your competitors get traffic from – social, display ads, search engine results, and referrals. It will help your business find out new avenues that they can use to attract more users.
Would you like to analyze your competitor's sales funnel? Want to find out their most popular pages? Track their campaigns? Then SimilarWeb is a highly sought after tool that you can use.
Pricing: They offer a free version as well as an Enterprise version. You will have to talk to one of their consultants if you want to know their pricing. You might want to check out this link for more details on the features they offer.
Buzzsumo
If you want to analyze the performance of your competitor's content across different social mediums, there is no better tool than Buzzsumo. It will show you the number of shares across social networking sites like Facebook, LinkedIn, Twitter, Pinterest, Google+, etc. For competitive analysis, it is certainly the best tool out there in the market right now.
When you use BuzzSumo, you will not only be able to find out your most obvious competitors, but it will also help you unearth new names that are competitors but are smaller in size. You can also see individual articles and how they have performed during a certain time period.
We have used the keyword 'content marketing' on the BuzzSumo console. You have the top five results here in the screenshot. The first result has more than 94k shares through Facebook. You can check out the content and see if you can replicate something similar to the same standards. The fourth result has poor shares across Facebook, LinkedIn, Twitter and Google+ but has incredible traction in Pinterest (28k shares). You might want to check out why they performed well on Pinterest vis-a-vis other platforms. Businesses can take insights from these data sets.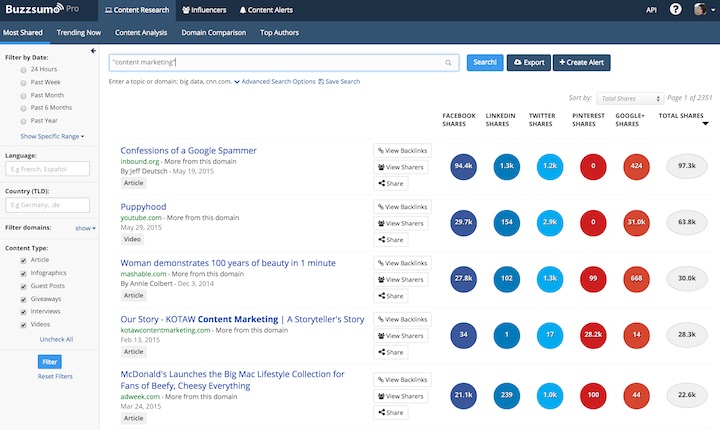 Since the free option is limited, we would suggest you to use the trial version. By making use of this tool, you can create an entire content strategy from scratch. You will be able to discover stories that are trending and be in a position to create content that can go viral. It even allows you to gather data on a real-time basis.
You can monitor your competitor so closely that you will get notifications when a competitor is mentioned online. It will help you wade through millions of forum posts, including Amazon, Reddit, Quora, Q&A sites, and so on. By joining the discussion with your customers and responding to their queries, you can capture their attention. Create a dashboard where you can have access to all the comparisons you have done so far with your competitors.
Pricing: They have four plans and you can get access to all the plans for a period of 7 days for free. They are named Pro, Plus, Large and Enterprise, and they are priced at $99, $179, $299 and $499 (varies based on the features and customization required). You can check more about the features and pricing here.
Moz
The Keyword Explorer tool by Moz allows you to search by keyword, root domain, subdomain and by exact page. The Moz tool will tell you the keywords that your site could rank for and give you suggestions that are perfect. It is known to have a 95% accuracy when predicting the search volume for keywords. It helps businesses target long-tail keywords that have a high relevance.
It will also tell you about the keyword difficulty, volume and expected CTR rate scores that will tell how much of an impact you can make in terms of ranking and driving traffic to your site. The tool gives you a SERP analysis and tells you why some pages rank and some don't.
The Moz dashboard below shows the search history for the keyword used over a particular time period. It also displays the keywords that were used during organic searches by visitors. There are other pieces of information too that will help with understanding your competitors better.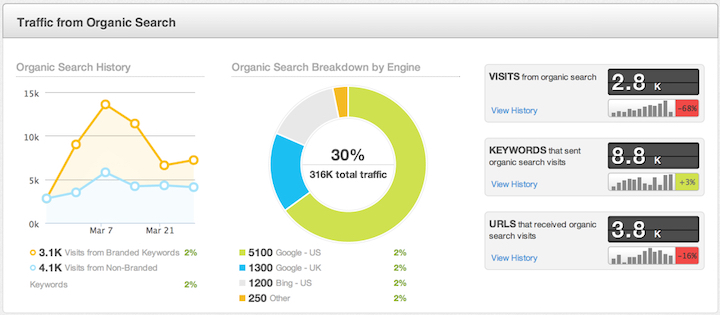 Moz's Keyword Explorer lets you see the keywords your site ranks for and helps discover the most important keywords of your competitors. It even goes a step ahead and checks the entire length and breadth of your website for errors. It sends you a notification if it finds any issues. The tool will also send specific recommendations that will be helpful to improve the page.
Moz has the following proprietary tools – Keyword Research, SEO Audit & Crawl, Backlink Research, Rank Tracking, SEO Toolbar and Domain Analysis. All of these tools help businesses to be on top of its competitors.
Pricing: Moz has four plans. The Standard, Medium, Large and Premium plans are priced at $99, $179, $249 and $599 respectively.
Spyfu
Spyfu is a tool that is totally dedicated towards competitive intelligence research alone. Apart from keyword research, it will help you understand the kind of method that your competitors use in terms of organic and paid search. When you type your competitor's name on the search bar, you will get every organic ranking for each keyword, every keyword that your competitor runs on Adwords and every ad variation over the past 12 years. By knowing these details, you will easily be able to predict what your competitors plan on doing.
You can find a screenshot of the tool, below. This particular keyword has 100% organic clicks which means that you should not invest in paid ads for this keyword.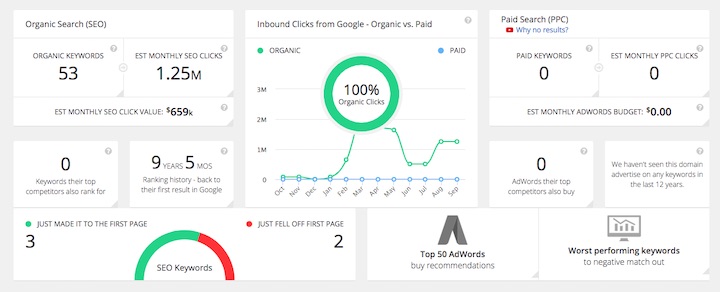 Here are some of the things that Spyfu does:
Keyword Research:
Google Keyword Tool Alternative
SERP and PPC analysis
Keyword Ranking History
Adwords Advice
Keyword Grouper Tool
SEO Competitor Research:
Keyword Analysis
Comprehensive reports
Keyword History
Review competitor backlinks
3-way competitor research tool
PPC Competitor Research:
PPC ad rank tracker
Monitor ads of the competition
Adwords Spy tool
Find competitor keywords
Negative match recommendations.
Spyfu also tells the keywords that competitors rank well for but you don't. This will give you deep insights as to where you need to focus on. You need to study why they have succeeded on a particular kind of a keyword while you have not been able to get the same results. Compare the efforts they have taken for the keyword vis-a-vis yours, and you will be able to find out what went missing.
Pricing: Spyfu offers three plans which depend on the features they offer. The plans are called Basic, Professional and Team and are priced at $39, $78 and $299 for each month respectively.
KeywordTool.io
For finding variations of keywords to build different pages, keywordtool.io is one of the most sought after tools. You can use this tool to pull in keywords related to a theme and group them into topics that are relevant. These topics can be used to create your own page or combine them with other topics. Many comment that it is a fantastic tool for finding auto suggestions on Google. If you want to blend a variety of keywords in your SEO copy, then keywordtool.io is the way to go.
In the screenshot below on Keywordtool.io, you will find that it has fetched more than 800 unique keywords for 'cybersecurity.' It also shows the search volume, related keywords and keywords used in the question format.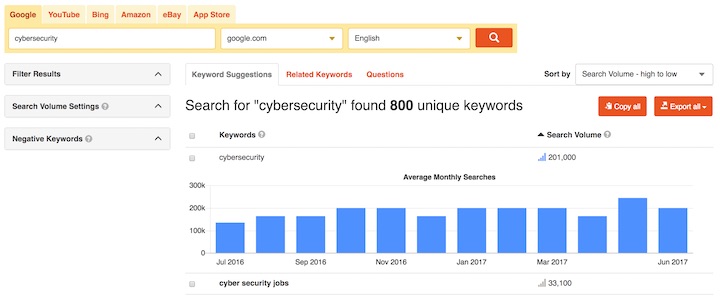 It also has the ability to get question based queries if you are looking for content ideas. Keyword suggestions may differ by country and keywordtool.io captures this without much of an effort. So if you are a business that operates in different countries, you will not regret getting the paid version of the tool.
When you use the tool, you will get access to keywords that are frequently used in YouTube, Google, Bing, Amazon, etc. You can use filters like language, location, and Google country domain (i.e. Google.com vs. Google.ca). You can get search volume and competition for a bunch of keywords. In short, keywordtool.io is a simple tool to use, giving you an exhaustive list of highly valuable long-tail keywords.
Pricing: There is a free version of the tool that customers can use for a lifetime. They have 3 paid plans- Pro Business, Pro Plus and Pro Basic. They are priced at $89, $99, and $199 per month based on the features that are offered.
Answer the Public
If you have the right keyword research tool, you can craft content and ads that will attract users who are ready to buy. To know what questions people are asking, there is no better tool than 'Answer the Public.' When you search, it creates something called a search cloud which shows a visual representation of all the search questions. They are categorized into 5Ws- 'How', 'can' 'which', 'will' and 'are'.
The screenshot below will show you different variations of the results that you will get when using Answer the Public for the term 'lead generation.' Here are some of the results that you will get. "How to do lead generation for b2b?', 'best tools for lead generation', 'which are the best practices for lead generation,' and so on. These can be used to create content for potential customers who are in different stages of the customer journey.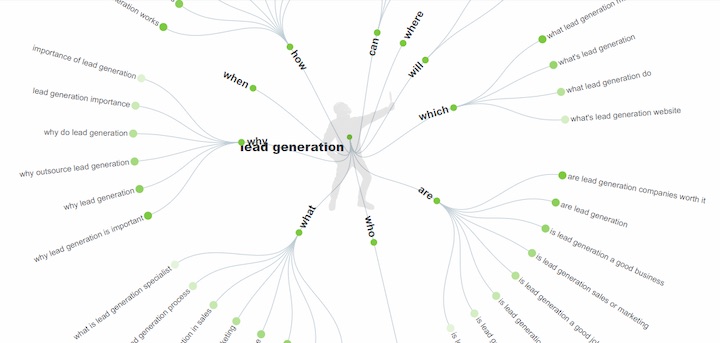 With Answer the Public, you will have a repository of questions that your audience searches for. But you also need the monthly volume of related keywords to choose the ones that are best optimized for search. This is where using tools like Ubersuggest and Ahrefs makes sense.
Pricing: They have a free version of the tool which anyone can use. Apart from this, there are no specific plans based on usage. If you choose to pay monthly, you will be billed $99. The annual billing is $948.
Keyword Everywhere
The Keywords Everywhere extension can be installed on either Chrome or Firefox. It will show you the average of the total searches that people have made over the past 12 months for a particular keyword. It lets you find long-tail keywords with its ability to predict search volume accurately, including CPC and data about the competition.
Keywords Everywhere also shows other keywords that people search for and related keywords from Google and Bing. You don't have to use multiple platforms to access the data-you will be able to see it real-time while you are accessing YouTube, Google, Bing, Amazon, GA, etc.
Below is a representation of the Keywords Everywhere extension when someone searches for 'Donut Buffets'. You will be able to see the related keywords using which you can create content to attract these potential customers. It will also tell you other keywords that people usually search for. There are a lot of insights that you can gain from these data sets as it also tells you about the data volume of the keywords, including the CPC value and the competition.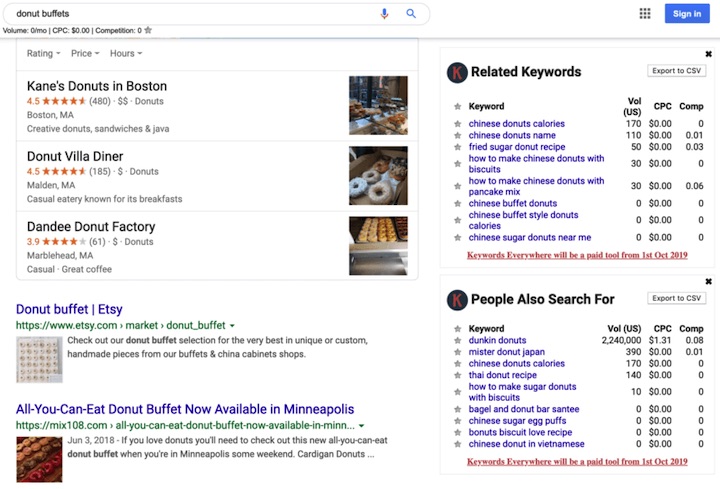 The tool is easy to use, if you think there are too many data sets that don't make sense to your business, you can customize it to your liking by removing the ones that aren't relevant. The data that it pulls in from the Google search console is useful when you look at clicks and impressions for queries. For each query, it displays the monthly search volume, CPC and competition for queries.
Pricing: It used to be a free extension, not anymore. You need to buy credits to use the extension. 100,000 credits is available for $10. The price increases as the number of credits increase. Learn more about their pricing model here.
Apart from these tools listed below that focus on helping you discover competitor keywords, our offering, Competitor Persona by Delve AI, enables you to gain a holistic view of competitor's customers based on their user persona.
Competitor Persona by Delve AI
To help learn from competitors and to reach out to your customers effectively, Competitor Persona by Delve AI presents profile distribution data from audience intelligence grouped as Who, When, Where, What and How sections. From knowing the most effective channel to reach out to your customer to the products, services and tools that they consume, you can explore multiple options to reach such audiences. You can also get ideas for geographic targeting: city-wise, region-wise, country-wise, subcontinent-wise, and so on. It even goes a step ahead and tells you the urbanicity based distribution (metro, urban, semi-urban or rural) of the cities where your competitor's customers are based. With Delve AI's Competitor Persona tool, you don't have to be in a position where your only strategy is to copy your competitors. If you use the same strategies that your competitors use, you may end up spending a lot of money as the bidding can get expensive.

Delve AI's tool also analyzes user queries on competitor websites to uncover likely user intent and typical query constituents. For example, it tells how many queries are season-specific or weather-specific. Let's say you are an online retailer, you will get to know if there are any products or categories that are trending well during a particular season or based on the weather conditions. It also tells you if the visitor reached through a paid ad link or via organic route.

Further, Competitor Persona by Delve AI provides unique insights by extracting key structured attributes that are specific to your industry/vertical. For example, in the apparel & fashion industry, relevant attributes derived from keyword analysis include size, gender, occasion, type, color, age-group, etc. Delve AI's analysis systems automatically extract industry specific insights for over 40+ major B2B/B2C industries.
By understanding deeply your competitor's users and marketing strategies, you will be in a better position to make changes to your own strategies and get organic/paid ideas to grow your business.
Pricing: Competitor Persona by Delve AI has three tiers of pricing based on the size of the competitors. Pricing is $13 per month for small business competitors, $25 per month for mid-sized competitors and $59 per month for enterprise competitors, all billed yearly.
Conclusion:
These are just a few of the tools that are most recommended by marketers around the world. No matter what type of business you are in, never forget that your competitors need to be studied and analyzed so that you are never found wanting. Always be on the lookout to learn something new from your competitors. Analyzing your competition is no more a privilege that only businesses with fat cheques can afford to have. Thankfully, most of these tools aren't expensive and can be afforded by most businesses.
The only way you can be one up against your competitor is when you know their actions fully well, anticipate them in advance and make even better strategies. Find out the tools we have listed here that are most suited for your business and use it to have an advantage over them. If you can afford it, don't just rely on one tool, get data from multiple sources and use them to get an idea of the entire spectrum.
This article was originally published on Delve.