Does it feel like the speed at which SEO techniques (and their effectiveness) are changing is on a constant incline?
If so, you're not alone. Google's getting smarter and more powerful all the time — not only at analyzing and understanding web pages, but also at how effective it is at keeping people within its framework.
Why? The better that Google is at answering queries within the SERPs, or directing users to ads instead of organic listings, the more money it makes.
Unfortunately, this makes things much harder for those of us who rely on Google's organic search traffic as a lifeline. The SERPs are changing (and for most of us, not for the better). These are the 16 main features that come up in Google's SERPs: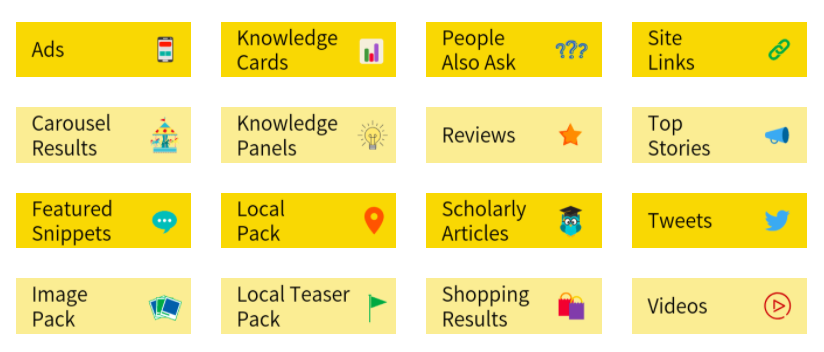 How are they changing? By:
Disguising ads
Making knowledge panels more prominent and using them more frequently
Displaying image and video packs
These things push organic listings further down the SERPs, resulting in fewer organic clicks and (conveniently for Google) an increased need for online retailers to invest in paid listings.
So what do marketers do? We work harder. Create better pages and faster websites. And focus more than ever on outdoing our competitors.
In this post, we've broken down the best SEO techniques for 2021 to help you retain and increase your organic search presence — covering both basic and advanced SEO techniques.
First, Test Your Website's Performance in Search
Before we dive into the details on improving your site's performance in search, let's take some time to test your current page ranking in the search results. Head over to Keyword Rank Checker, a tool that you can use to determine your page ranking based on keyword search: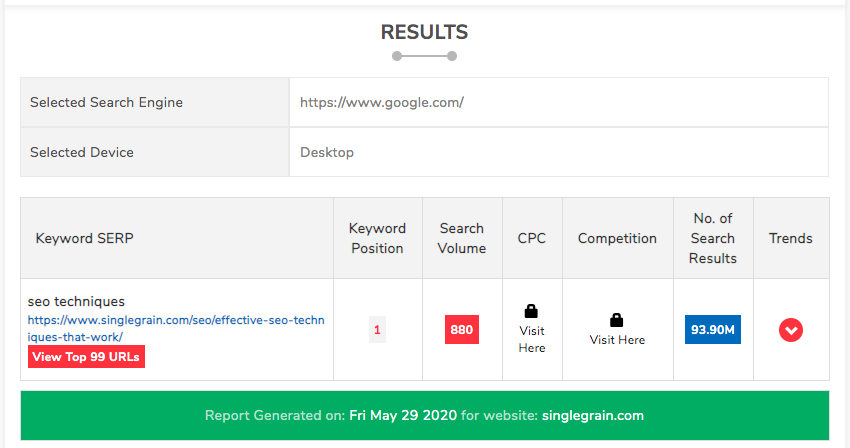 It goes without saying that your goal is to get your website to the top of this list. Higher ranking equals more organic traffic and should boost the overall ROI of your SEO strategy.
Sounds like the dream, right? But if you're feeling disheartened with the keyword ranking check you just ran, don't panic. Here are 10 SEO methods that will help your site dominate the SERPs in 2021.
Dive Deeper:
* 7 Advanced SEO Hacks for Your To-Do List in 2021
* Why You Should Update Content – Or Risk Losing The Traffic You Have [Case Study]
10 Effective SEO Techniques to Drive Organic Traffic
1) Improve User Experience Across Your Entire Site
Let's kick things off with a brief explanation of what Google's goal as a search engine is.
Just like any search engine, their objective is to find the best possible results for each user's query. If they fail on this front, users are less likely to use the search engine again. That said, Google does do this very well, which is why they're the largest search engine in the world — by far!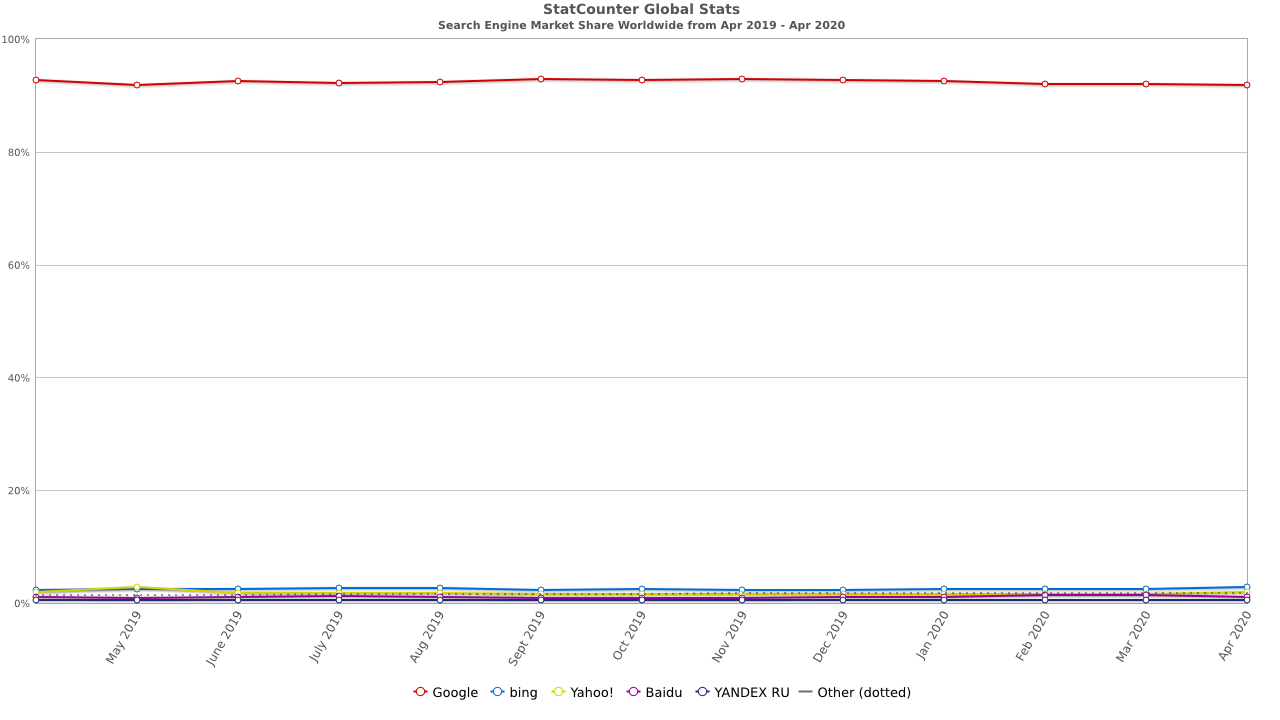 You'll need to think about that constant desire to show the best results when you're optimizing your site for SEO. Why? The answer is simple: poor-quality sites are less likely to rank. And Google's getting better at determining site quality.
If your website looks untrustworthy, outdated, amateurish or is slow to load, potential users are likely to bounce back to the SERPs and click on another result. You've lost a user and a potential conversion, and your bounce rate of affected pages is going to increase.
Although Google hasn't officially declared it, there is evidence to suggest that the search engine giant does reward sites that have low bounce rates with better rankings:

Google's reasoning is that if a user spends more time on a site, it's probably because they found it useful. And since Google only wants to deliver the best possible results to its users, it will push sites with strong engagement up in the search engine results pages.
A Word on What a "Bounce" in SEO Actually Is
A "bounce" occurs when a user lands on a page and then leaves without any other interaction. The time spent on the page is irrelevant — all that matters is that a user has performed a single interaction on your site by visiting that page, and only that page.
This means that a high bounce rate isn't necessarily a bad thing, which is probably why it hasn't been declared an official part of Google's algorithm — in isolation it's an unreliable metric. For instance, if a user lands on your site in search of an answer to a specific question and then leaves because they've gotten what they've come for, to the user that's a good thing. And what's good for the user, is good for Google.
So how can you improve the user experience that visitors are having with your website?
Here are 5 SEO improvement techniques you can use to enhance user experience and give your existing content a boost in search engines:
A) Make Your Posts Easy to Read
Ever heard the phrase "formatting content for the web"? To stand any chance at increasing your organic rankings, we need to take that a step further and optimize content for readability.
So how do you optimize your posts for readability? The following formatting tips can help increase the readability of your content:
Write quality content: First of all, you're wasting your time worrying about any of the points below if your writing's not up to par. Formatting matters, but so do great ideas, compelling delivery and error-free grammar and spelling.
Shorter paragraphs: Generally speaking, limit each paragraph to 3-4 sentences. You can even use one-sentence paragraphs if necessary, but use them sparingly or your post will look like a grocery list. A paragraph is a group of related sentences that support one main idea, so if you split up a paragraph, your idea can become fragmented and your point lost.
Mixed sentence lengths: Long sentences are hard to follow on a computer or mobile device, but they can work well when used sparingly — particularly when mixed with shorter sentences. Here's a fantastic example of how sentence structures can be varied for optimum readability: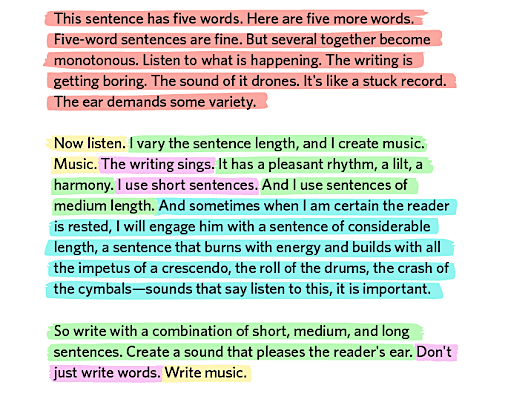 Sub-headers: Did you know that the average person spends just 37 seconds reading a piece of online content? You can boost that time significantly by including subheadings that help readers scan content and quickly get a better understanding of what the article is about. But make sure your headers are actually informative.
Bullet points: When you have a lot of data — stats, facts, ideas, examples — packed into one paragraph, it makes it easier to read when you list them with bullet points (like this one!). The general rule is if you are listing three or more items, use bullet points.
White space: Too much text can overwhelm visitors (and will likely increase your bounce rate). Prevent this by breaking up large chunks of text with relevant, supporting media, including photos, videos and graphs (in addition to bullet points and sub-headers).
Images/screenshots: Speaking of images, most articles should have several images or screenshots to illustrate the points or numbers or steps you are discussing. The more complex the idea, the more images you should include. (Image this entire blog post without any images. It would be daunting, right?)
B) Use Bucket Brigades to Keep the Flow
Originally, a "bucket brigade" was a chain of people who passed buckets of water from person to person to extinguish a fire. Now it's a copywriting technique designed to capture and keep a reader's interest.
How did the meaning go from a chain of people putting out a fire to a copywriting tactic?
In writing, a bucket brigade is a series of words that bridges one idea to the next in order to keep the flow. And when you keep the flow, you keep your reader's interest. Often the bridging phrase is followed by a colon.
Here are some different examples of bucket brigades:
General bucket brigades:
Do I have your attention?
Think about that for a minute…
I know the feeling:
OK, I know what you're thinking:
Introductory bucket brigades:
Do you want to learn how to… ?
Have you ever found yourself… ?
Imagine what it would be like:
Have you wondered why… ?
Content body bucket brigades:
Let's get started:
Let's dig a little deeper:
Let me explain:
Let me show you how:
Conclusion bucket brigades:
In short:
Let's recap:
In a nutshell:
But don't take my word for it:
C) Use the Inverted Pyramid Style of Writing
If you went to journalism school, you know all about the inverted pyramid style of writing: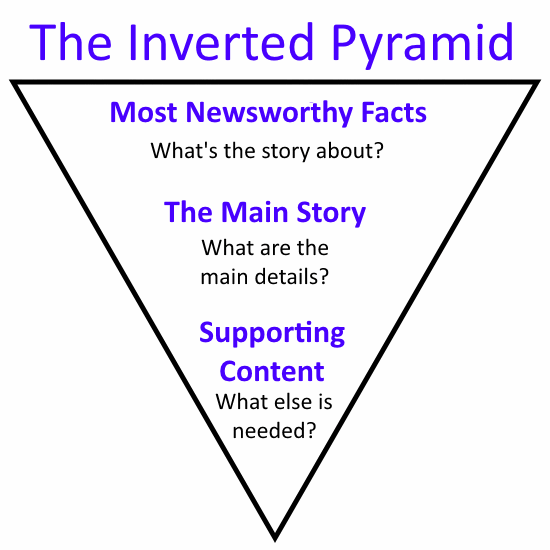 This method means giving away the most valuable information at the top of the article, with less important information appearing below.
Readers that scan articles rarely reach the bottom of the page, so it makes sense to give them what they want as soon as they land.
D) Improve User Experience (UX) on Web Pages
More often than not, high bounce rates result from poor usability and an awkward user experience (UX). Unfortunately, it's tough to pinpoint UX problems because they can vary dramatically from site to site.
Here are five user-testing tools for analyzing how people are interacting with your website (and spark ideas for improvement):
Clever and intuitive, Crazy Egg helps subscribers rate and understand user experience with rich visual aids like heat maps, scroll maps and confetti maps. Each of these are graphic representations of one aspect of UX.
Heat maps are colorful representations of where users have clicked on your site, like this: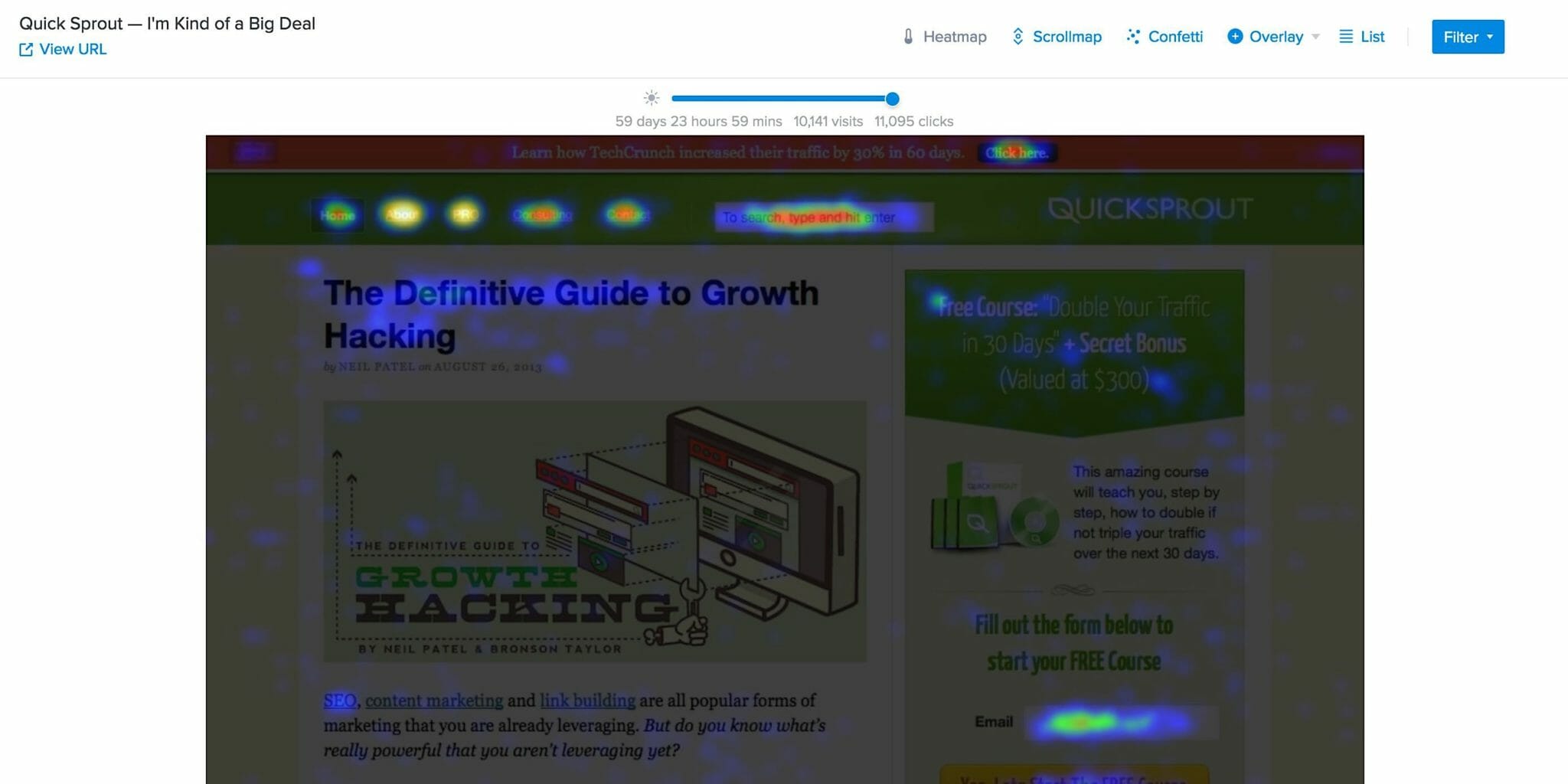 Scroll maps show how far down the page your users scroll before leaving, like this: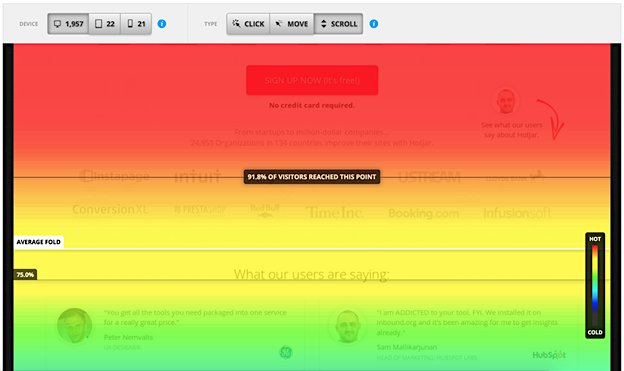 Confetti maps show you which referral sources resulted in the most clicks as well as what people click on most once they've been referred to your site, like this example: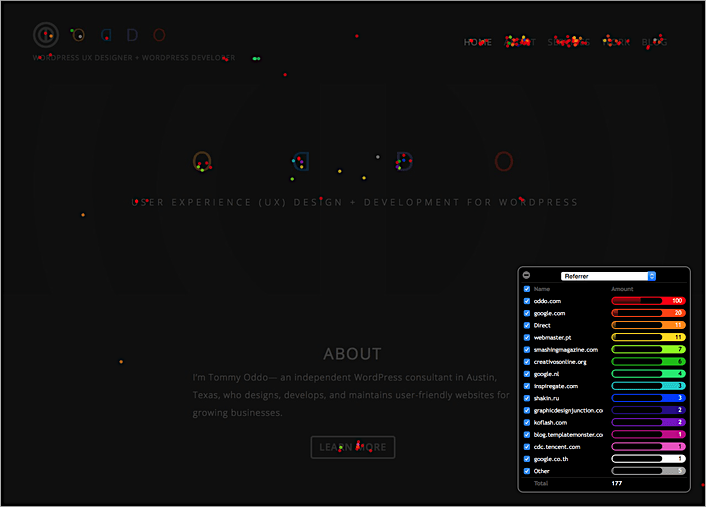 This data can help you pinpoint your site's design features and flaws, so you can correct them accordingly.
Optimizely, the world's leading experimentation platform, specializes in A/B testing — a scientific, data-driven way to test websites for maximum usability and engagement. In A/B testing, multiple versions of a web page are randomly shown to users, compared against a control page (generally the current website), and then analyzed for effect.
The biggest advantage of a proper A/B testing process is that marketers can understand how even the tiniest changes can have a positive impact, such as:
Moving the "buy" button from right to left
Changing button colors from red to green
Switching headline text from "download now" to "get your free e-book"
Many A/B tests can have surprising results.
For example, Empire Flippers tested and then changed the phrase on their CTA button on one of their forms, which led to a 33.10% increase in conversions.
The old CTA ("Join us!"):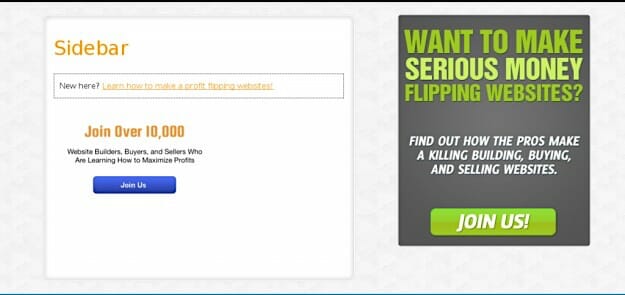 The new CTA ("Make Money Flipping Websites"):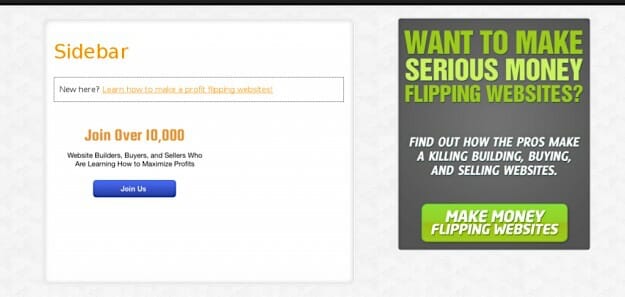 The genius of Optimizely is that it massively simplifies something that would otherwise require a team of dedicated, experienced UX designers and researchers to execute.
Along the same lines, Optimize by Google Analytics also assists marketers in maximizing engagement and conversions.
The free version of Google Optimize is a streamlined, user-friendly piece of software that simplifies A/B testing and uses advanced modeling to improve engagement and targeted experiences.
But perhaps the biggest draw of Google Optimize is that it seamlessly integrates with Google Analytics, allowing marketers to further leverage their existing resources.
With Google Optimize, marketers can use existing Analytics metrics as a starting point. This means they can rely on a familiar interface as they start to execute more intricate experiments.
Here's a shot of the Google Optimize user screen. Notice that it gives recommendations and suggestions for an optimal interface: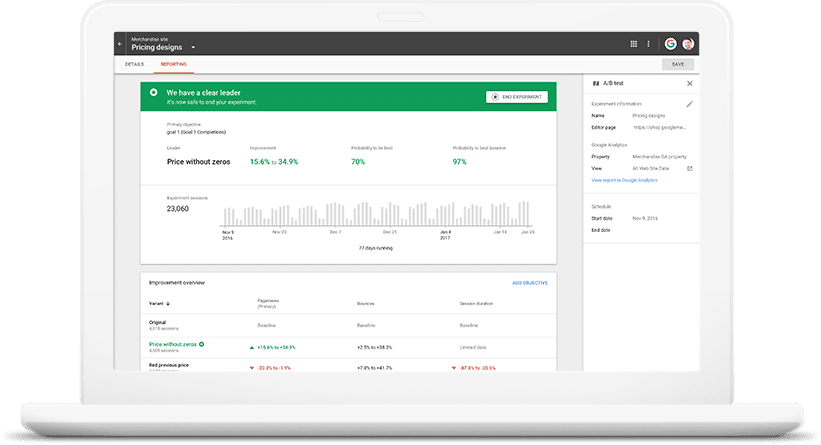 Dive Deeper: What Is A/B SEO Testing?
ClickFlow is a tool we built to help companies increase organic traffic without building backlinks or posting more content.
Through ClickFlow, companies can automatically see which pages on their site have the most potential to increase revenue, such as pages that have a high impression count in the search results, but a low click through rate: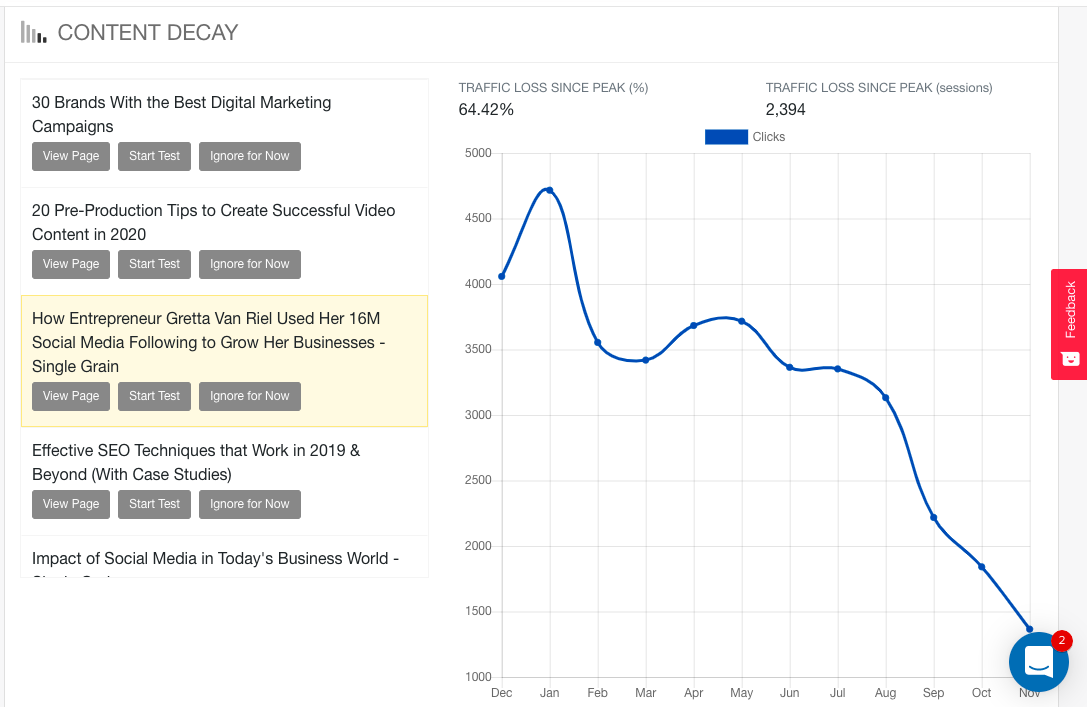 Using that information, ClickFlow will keep track of headline tests to help increase the traffic you're getting from search terms you already rank for:

The tool boosts your bottom line by showing you how much revenue you've gained and how much you stand to gain. It's been used by companies like LeadPages, Drip, The Atlantic, and more. Check out this short demo video:
E) Increase Website Speed
A decade ago, Google realized that performance elements like site speed were very important for users, and thus added it as a ranking factor — site speed can now make or break your site's performance in Google's search results.
Thankfully, Google has launched a number of SEO tools to help improve site speed, including:
Clearly, Google wants your website to load faster than it is right now. But how fast?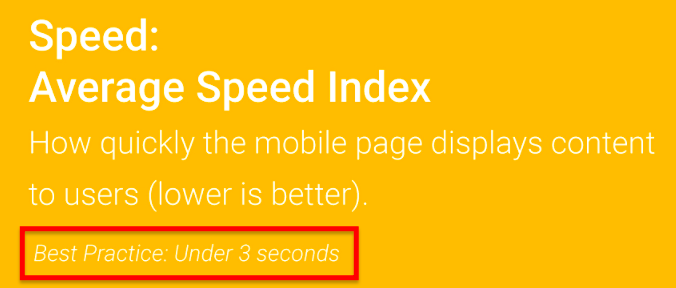 What happens if your site takes more than 3 seconds to load?

Boosting page speed can do more than improve organic performance; it can also increase conversions.
One survey found that nearly 70% of consumers said that page speed affects how willing they are to buy from a website.
That could see you missing out on a ton of revenue if shoppers experience performance problems on your site.
Here are a few ways you can you boost page speed for better rankings and more conversions:
Minify unnecessary code on your page
Defer JavaScript loading
Reduce server response time
Choose the right hosting option for your needs
Enable browser caching
Enable compression
Compress images to cut down page size by 30-40%
Dive Deeper:
* 7 Mistakes in UI and UX That Are Costing You Engagement
* How to Design the UX of a Website or App to Increase Conversions
* How to Use UX Testing to Improve Your Customer Lifetime Value (CLV)
Want to grow your organic traffic by 20-100%?We built ClickFlow, a suite of SEO tools designed to increase your organic rankings and scale qualified traffic for your website. Click here to learn more and get started.
2) Optimize for Voice Search
With 25% of U.S. adults now owning a smart speaker (a number that is expected to hit 55% by 2022), it's safe to say that voice search is definitely something you should be factoring into your SEO strategy.
Here are a few more juicy voice search stats:
72% of people who own voice-activated speakers say that their devices are used as part of their daily routines
65% of people who own an Amazon Echo or Google Home can't imagine to going back to the days before they had a smart speaker
2 in 5 adults use voice search once daily
25% of individuals ages 16-24 use voice search on mobile
Voice commerce sales reached $1.8 billion last year (and predicted to reach $40 billion by 2022)
22% of U.S. smart speaker owners have purchased something using their devices
There are big differences in how voice search and text search are used, and thus how you should be optimizing for voice search, as well as the results that users are given. For example, a text searcher might type "horse diet." A voice-based search however, tends to be longer — something like "what do horses eat?"
Another difference with voice search is that it tends to be locally based, such as: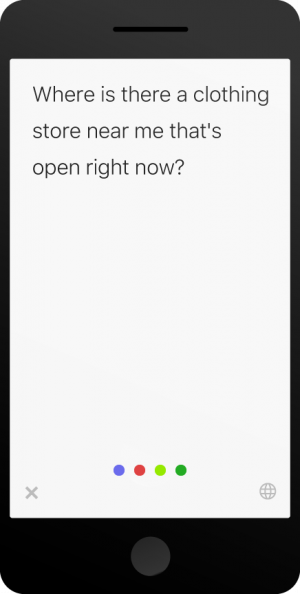 Notice that in both examples, the voice searcher is more likely to use a question. And when we perform a voice search, we're not given a list of results to choose from — we get one answer.
This answer often, although not always, comes from a featured snippet. According to Backlinko, 40.7% of voice search results are taken from featured snippets, but bear in mind that this figure will constantly be changing. The remaining results could be extracted from anywhere on a web page.
However, remember that the answer will still likely come from a question/answer text block, so aim to write for featured snippets, and you'll naturally be writing for voice search too.
Here are a couple of other points worth bearing in mind when optimizing for voice search:
A) Use Long-Tail Keywords
Long-tail keywords have a key role to play in voice search, with long-tail generally referring to terms containing three or more words: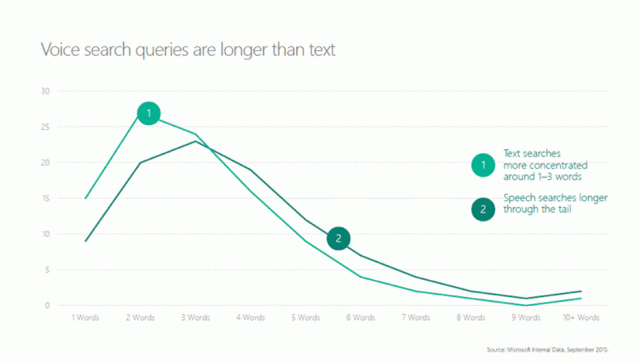 For a chance at ranking for those longer keywords, you'll need to create content that targets them on your website using this process:
Identify one long-tail keyword using this guide (e.g. "how to wash a car").
Find lots of semantically related keywords (e.g. "car washing guide" and "best soap for washing a car").
Write a long-form, comprehensive blog post that suitably positions those semantically related keywords throughout. Aim also to create content that's significantly better than the content currently ranking for your target keyword.
Format the content for readability, using questions as subheadings where appropriate.
B) Use Structured Data
Remember how we said around 40% of voice search results come from featured snippets? Using structured data can help boost the chances of your information being used to answer a voice query over a competitor's.
There are several types of structured data (also known as Schema markup) that SEOers can use. Both help Google better understand the subject and themes of a page. This, in turn, can help improve rankings.
As per SEMrush:
"Schema is a structured data vocabulary that defines entities, actions and relationships on the Internet (webpages, emails, etc.)…. As a result of adding schema tags to your website, Google can supplement your website's search results with additional info in the form of Rich Snippets, which are proven to help click-through rate in organic search results."
As Ana Gotter notes: "Among other elements, schema markups are often used to point to local businesses with snippets of code in order to help Google understand what your website is about and thus better connect you with relevant searches," like this example of a local business schema markup: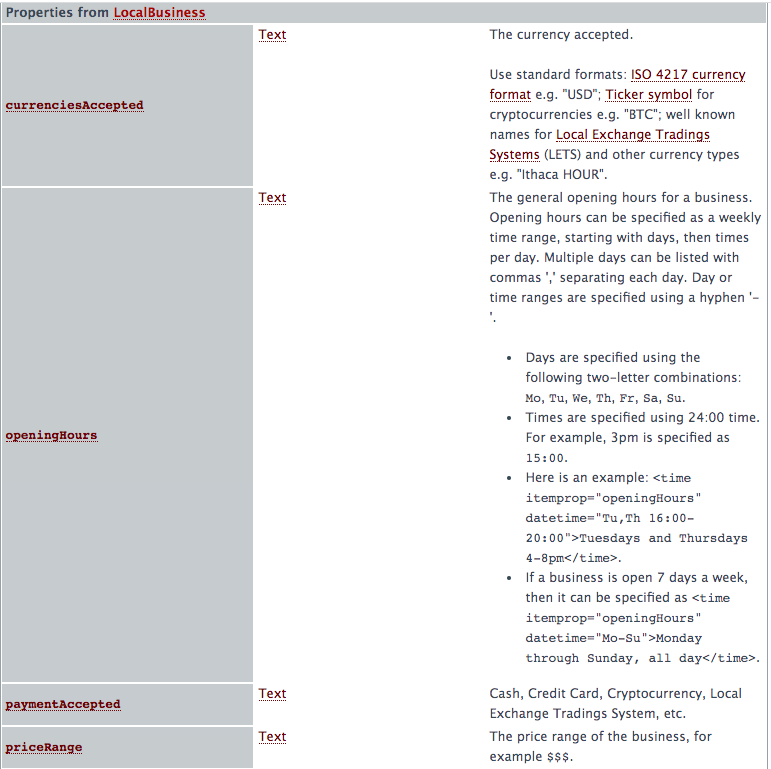 This is an example of how web pages with schema markup for events appears in the SERPs:

Get started by heading over to Google's Structured Data Testing Tool to find out whether you've already implemented schema: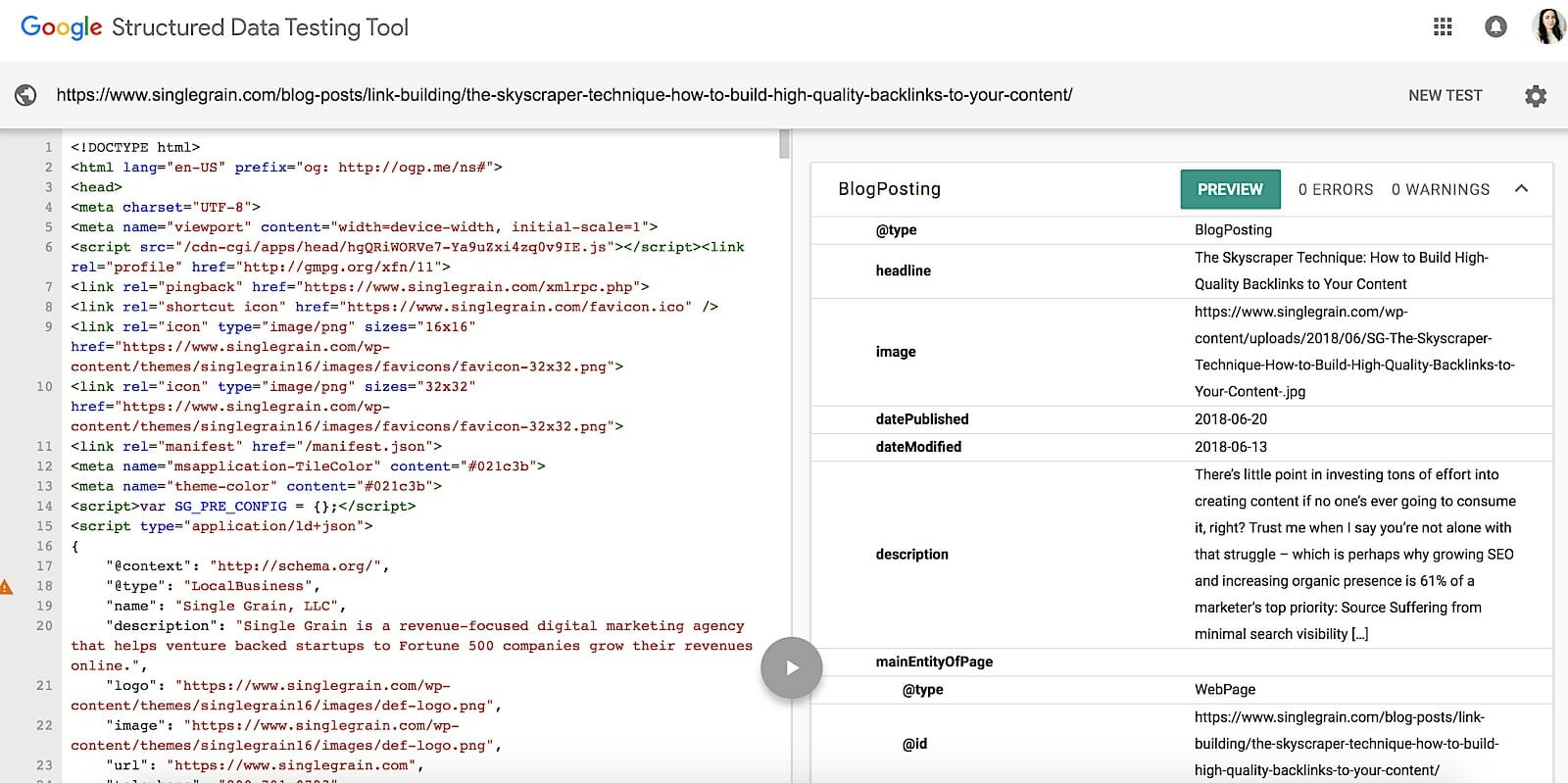 If you haven't, don't panic!
Here's Google's guide to Schema markup that explains the type of code you need, and how to implement it.
Dive Deeper:
* How to Use Schema Markup for SEO
* How to Optimize Your Website for Voice Search and Wearable Tech
* VSEO: How Voice Search and Conversational AI Are Changing SEO
* Why You Should Use Long-Tail Keywords in Your SEO Campaign
3) Design for Mobile First
While voice search is important, time has shown that it's not quite as essential a tool as we predicted — especially when it comes to conversions.
Whether this means voice search will never be critical to e-commerce marketers, or whether it simply needs to evolve, remains to be seen. But what we do know is that for the time being, the majority of searches — and half of all purchases — take place on mobile. Moreover:
77% of Americans own a smartphone

79% of smartphone users have made a purchase online using their mobile device

 in the last 6 months
40% of all e-commerce purchases during the 2018 holiday season were made on a smartphone
80% of shoppers used a mobile phone inside of a physical store to either look up product reviews, compare prices or find alternative store locations
More importantly, Google's gone mobile first.
It's been some years in the making, but in March 2020 Google announced that it will now primarily use its mobile smartphone user-agent to crawl sites.
This means that the mobile version of your site will be crawled and indexed ahead of the desktop version — if the desktop version gets crawled at all.
As a result, any new site you build should focus on the mobile experience. How it appears and performs on desktop is still important, of course, but mobile needs to come first.
4) Focus on Topic Clusters Instead of Keywords
Google is evolving, and so is its algorithm. Its objective now is to understand the intention of its users — what they expect, what they're looking for and, more specifically, what search results would best help answer their query.
That's where the featured snippet box comes into play…again: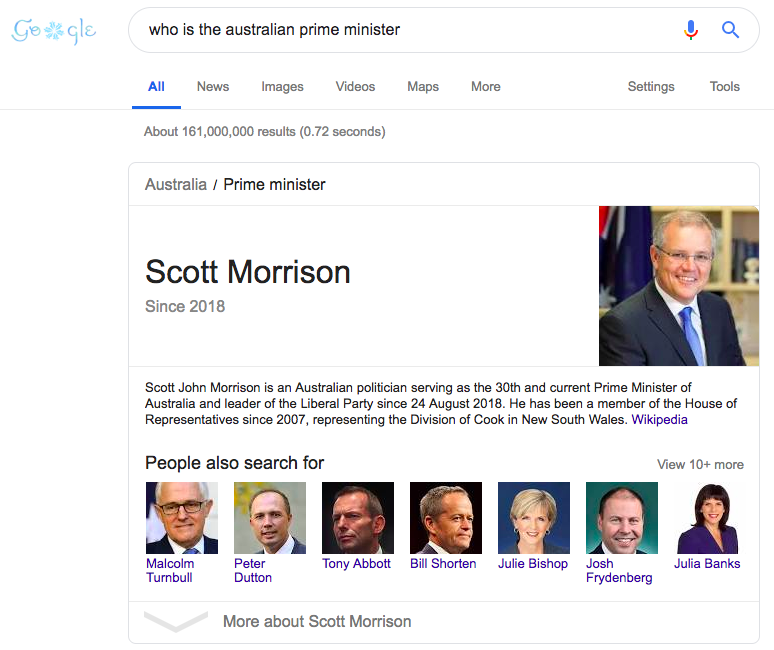 However, don't expect your website to appear on the first page of Google simply by creating keyword-focused content. It's not enough to look at keywords alone; we need to look at the context around them. Also referred to as "user intent," you must pay attention to what your users are looking for.
Here are two things in particular you should consider:
A) Know Your Target Audience
The type of content you'll create will depend entirely on your audience. The better you know them — their location, age, interests, etc. — the better the content you'll create (and the better your SEO).
For example, suppose your keyword tool shows that "Android" has a search volume of 2,740,000 per month. That's a lot of people you could be exposed to, so you'll need to target it heavily, right? Not necessarily.
People searching for "Android" could fall into several categories:
Mobile users searching for Android help
Star Wars fans looking for droids
Robotics enthusiasts looking for information about Androids
If you don't understand your target audience, you could risk creating content for all these topics. That won't win you rankings or readers because you can't please everyone with a single piece of content optimized for such a broad term.
However, by building buyer personas, like Maggie Manager below, that include the shared traits of your ideal customers, you'll be better able to zero in on topics that matter to your readers, while also minimizing the chances of creating content that fails to get results.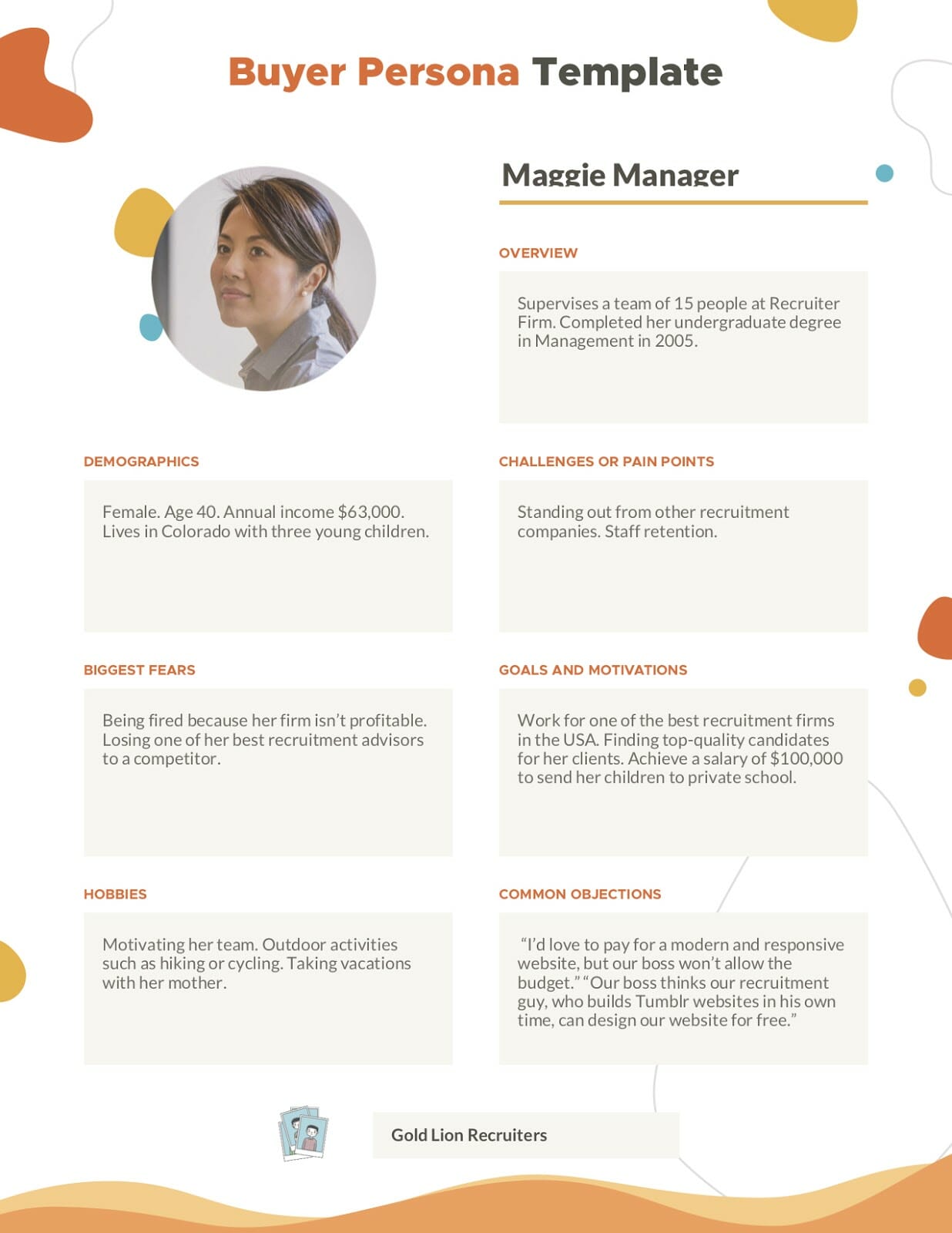 B) Organize Content into Clusters
Instead of focusing on standalone keywords, organize all your content into different themes. The topic cluster model, created by HubSpot, works by linking relevant content pieces together into "clusters":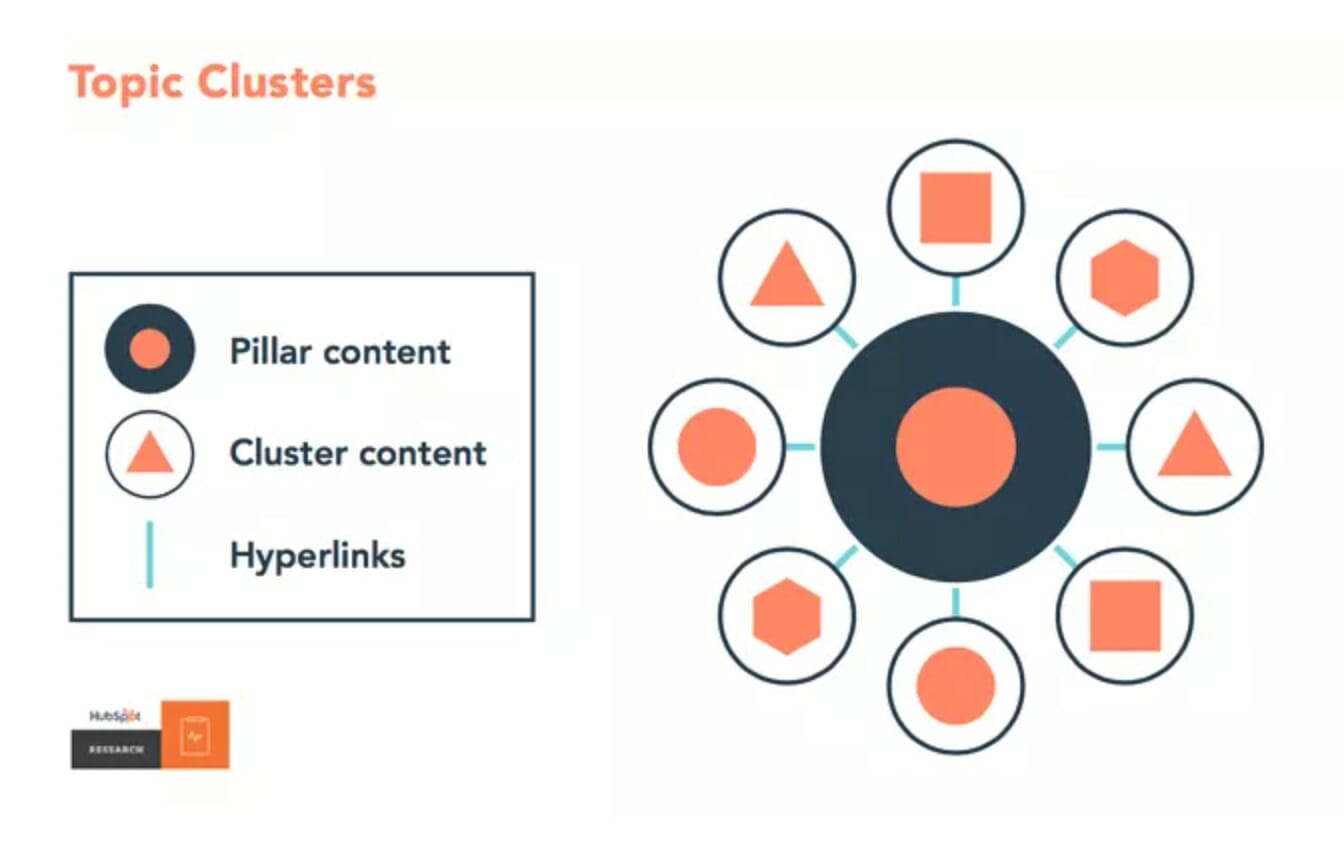 This entails having:
A pillar page: These are generally your site's most important pages (for example, on an e-commerce site, this will often be top-level categories) that you want, and can expect, to rank for a broad range of keywords.
Cluster pages: These are pages that live around and are linked back to their relevant pillar page. They will generally answer questions or cover topics related to the pillar page in more detail.
Here's a topic cluster around "workout routines":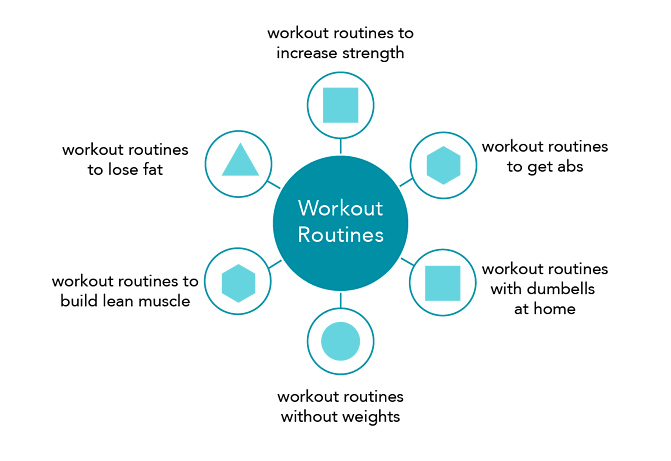 This strategy achieves three things:
It satisfies user intent since they get easy access to more detailed information on their topic of interest.
It turns your site into a better resource for those pillar topics. This is important to Google, since its goal is to send users to the best possible page for their search term. When Google views your site as a great resource for a particular topic, odds are that you'll be rewarded with better rankings.
Each of those cluster pages has the potential to rank themselves, and drive additional traffic to your site.
Want to grow your organic traffic by 20-100%?We built ClickFlow, a suite of SEO tools designed to increase your organic rankings and scale qualified traffic for your website. Click here to learn more and get started.
C) Do Your Keyword Research
Wondering why we're listing keyword research as an SEO technique when we've told you to focus on topic clusters, rather than keywords?
Because keywords still matter.
Organizing content thematically is key, but it's a mistake to ignore keywords entirely. Keywords act as signposts to Google's spiders, signaling topics and providing hints as to the nature of the content on the website.
By doing keyword research, you discover who is searching for the topics you want to write about, create blog posts or other types of content that answers customers' specific questions and increase brand recognition.
There are many tools you can use to access keyword data.
Keyword Explorer is a versatile, dynamic program that covers nearly every aspect of the process.
It helps marketers brainstorm keywords, build lists and filter them by topic. You can also analyze metrics, click-through rates and other measures of effectiveness, as well as spy on and assess keywords used by your business rivals.

SEMrush is widely regarded as one the best tools for SEO analysis, particularly where it concerns business intelligence.
One of SEMrush's many features includes the ability to identify and analyze the keywords your competitors are using. Enter your competitor's URL into the SEMrush search bar and you'll be provided with a list of the keywords they rank for, along with an estimation of the traffic those keywords drive to your site.
For instance, a domain overview search on "title boxing," one of the most popular online boxing and kickboxing retailers, yields 110,000 organic searches for the term "punching bag," as well as 33,100 results for "punching bag stand":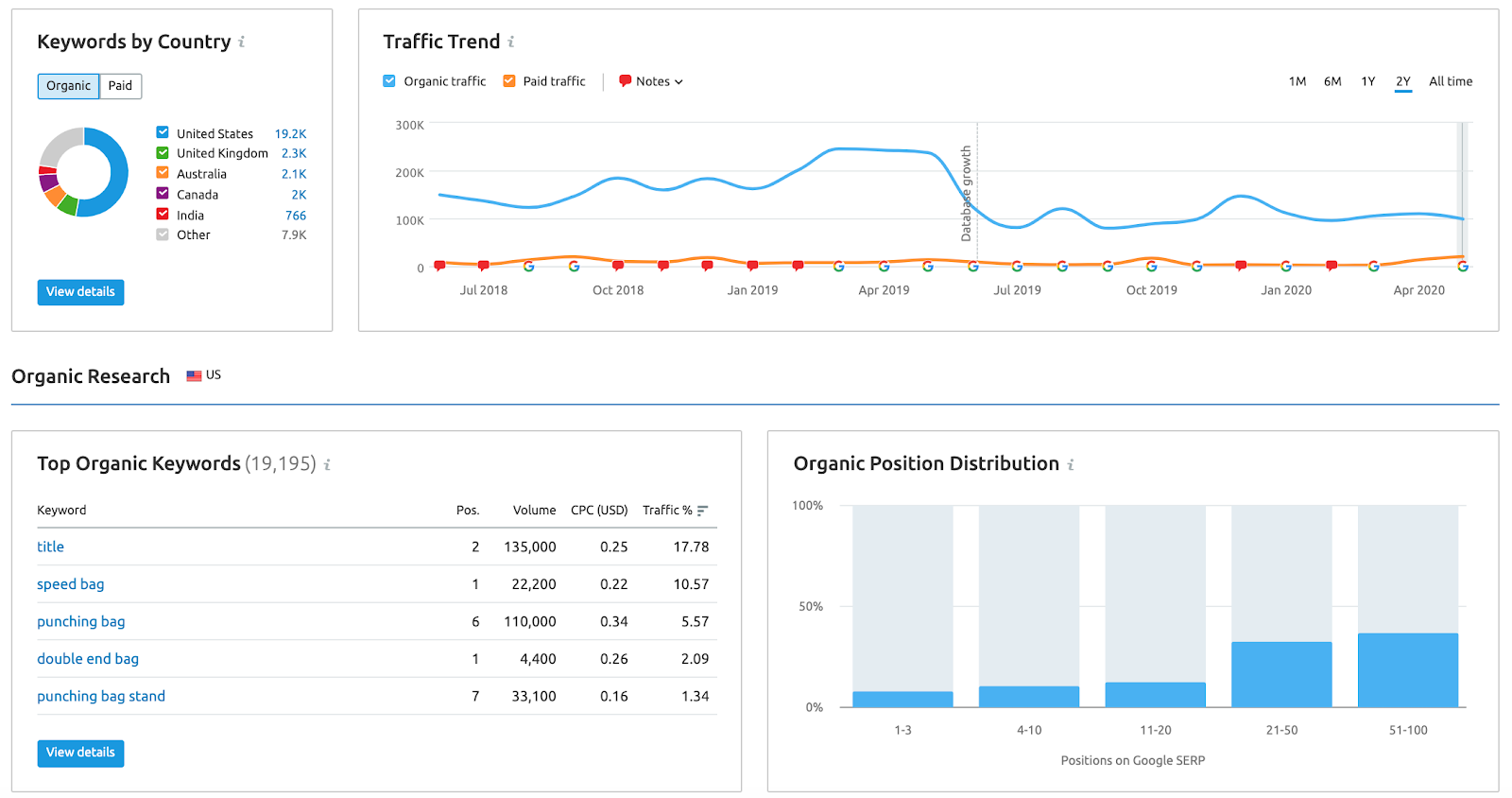 Want more competitor keyword data? Just click the "View Details" button in the "Top Organic Keywords" box.
Ahrefs offers a wide range of products, including backlink checkers, content explorers and position trackers.
For our purposes however, we will focus on their expansive, adaptable Keywords Explorer, which allows marketers to search nearly 7 billion keywords in over 170 countries, assessing metrics like keyword difficulty, click-through rates, related keyword lists, and search volume: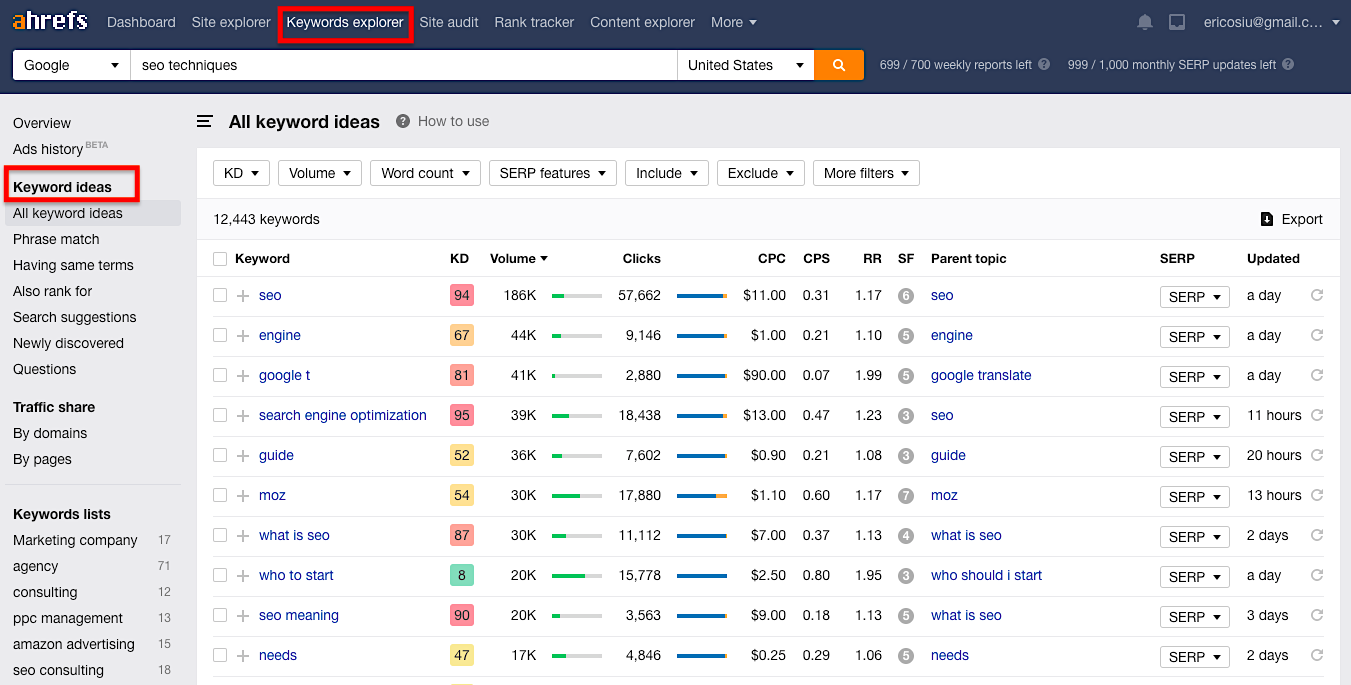 Check out this 5-minute video How to Use Ahrefs for SEO Analysis:
So which keyword tool should you use?
When considering which keyword tools to use, look for something that allows you to monitor a high volume of keywords, broken down by relevant themes. Additionally, the best tools allow you to track all your competitors, from large corporations to small, up-and-coming firms.
As for keyword ideas themselves, Google offers an easy (and cheap!) way to discover related search ideas.
Just type "sushi restaurants in San Francisco" into the search bar of Google Chrome and you'll be presented with related images along the middle of the page, such as the names of specific restaurants, times they're open, and where they're located: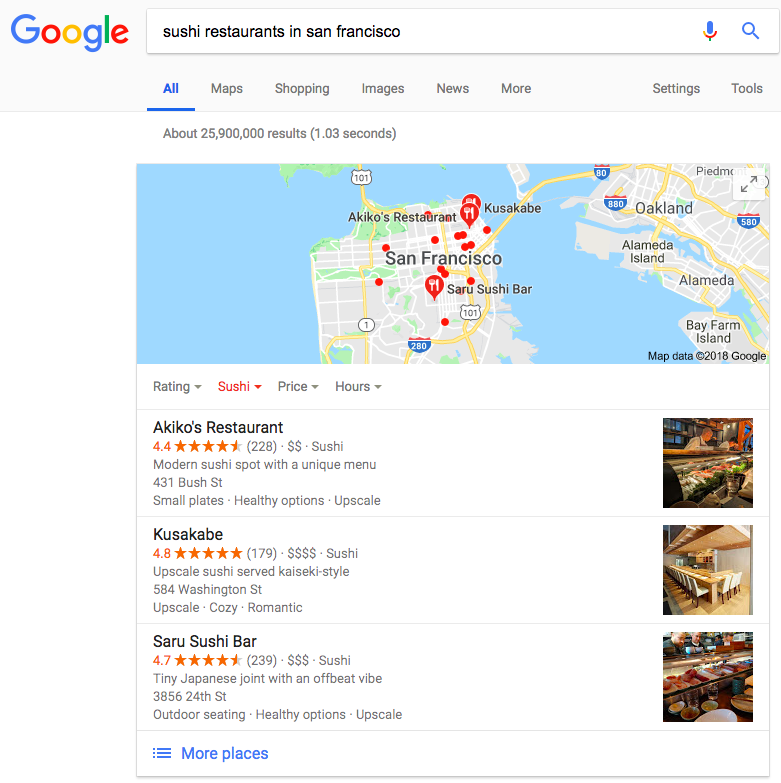 This is a strong hint for developers to include these topics in their content, or to create pages to leverage these related images.
Dive Deeper:
* Quick Guide to Using Topic Clusters to Improve Your SEO
* How to Use Google Keyword Planner for Content Creation
* SEO Keyword Research Made Easy in 2021
5) Write Longer Content (Most of the Time)
An SEO study by Backlinko concluded that longer content tends to accumulate more backlinks, which can often translate to better rankings and more traffic: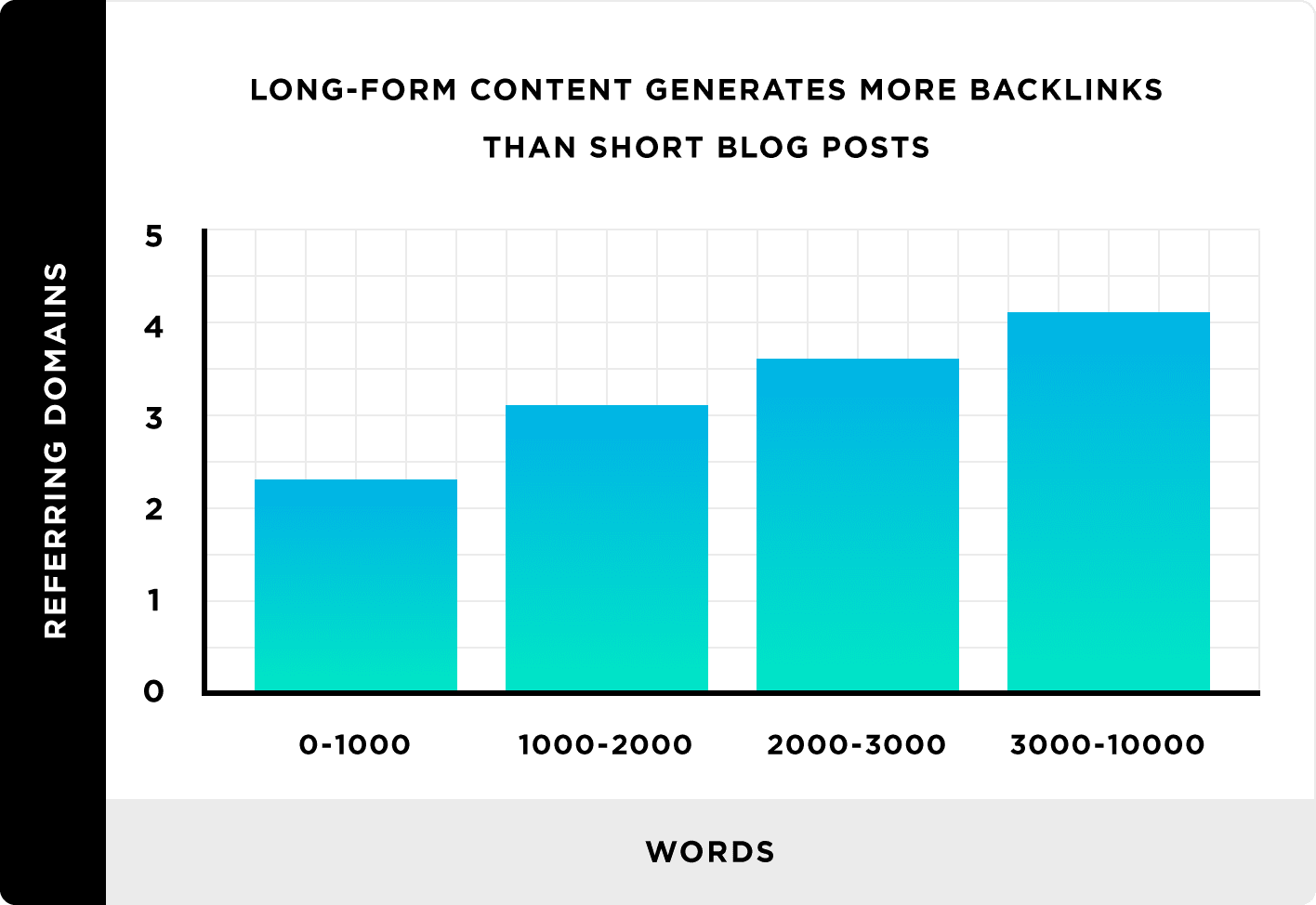 However, writing 2,000+ words for every blog post is not for everyone. It's not only intensive and time-consuming, but it's usually not necessary.
Remember what we said about satisfying user intent? Few search queries are from people looking to read a long blog post. They might only need a few words or sentences to get their answer.
Let's take the keyword "link building tips." People searching for that phrase are likely looking for a comprehensive guide to link-building strategies.
People searching for "link building do's and don'ts," on the other hand, might not be after a detailed guide. A simple bullet-point list may be all they're looking for.
Unfortunately, there's no hack to determine how long your content should be other than good old-fashioned common sense. Ask yourself what information someone would be looking for if they're using a keyword that you're targeting, and start from there.
Don't forget that it is possible to target multiple types of search queries in one post. That comprehensive link-building guide, for example, could always be wrapped up with a bullet-point list of do's and don'ts (just make it as easy as possible for the user to navigate the article by using jump links — like we have in the table of contents at the top of this piece).
But what if you've decided that 2,000+ word posts are a necessity? Here's how you can create long-form content (without the stress):
Refresh Your Old Content
If you're struggling to find the motivation to write a long-form blog post, then why not just expand an existing page from, say, 1,200 words to 2,000?
Existing content already has authority and (in some cases) an established readership. Rather than writing from scratch, it can be much simpler to boost an existing post's performance in the search results by refreshing it with updated information and extra content.
So how do you choose which content to update?
The best candidates for content refreshes are time-sensitive content (in other words, subjects like SEO that are constantly evolving), as well as posts that are getting some organic traffic, but have the potential to get much more.
You can find out how much traffic your content is getting in the Landing Pages section of Google Analytics. Just go to Behavior > Site Content > Landing Pages:

Once there, remember to change the segment you're viewing to "Organic Traffic," and filter the results using your search bar. For example, if you want to view traffic to content that lives in the /blog subfolder of your site, you just need to put /blog in the search bar.
Dive Deeper:
* What Is Content Decay and How It Affects Your SEO
* Do You Really Need to Write 1,890-Word Blog Posts to Rank on Page 1?
* Quality Over Quantity: The Balance of Keyword Usage
6) Take Advantage of YouTube SEO
Videos, predominantly from YouTube, are a common feature in the SERPs.
YouTube is: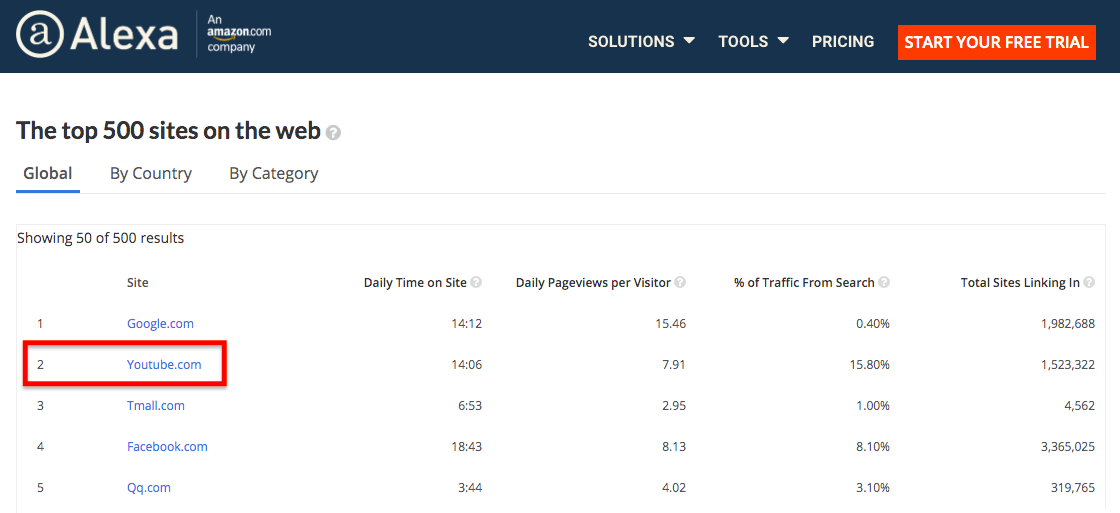 Many SEOers forget about YouTube when they think of search engines. Granted, video marketing isn't for everyone, or necessarily for every industry, but with most of us now having powerful video cameras on hand, there's never been a better time to play around with video marketing.
Here's how you can get in on the action (after creating a top-notch video, of course):
A) Make Your Video SEO-Friendly
Just like Google's spiders, YouTube's algorithm works by collecting and using information about your video. The filename, the title, the description of your uploaded content — all these elements affect rankings in YouTube's search results.
Here are a few tips to make your video SEO friendly:
Video Title – Crafting a compelling video title is a balancing act — you have to make the title SEO friendly and clickable to improve your click-through rate. Ideally, you should follow the same convention in your video titles as you would in your blog posts. To get clicks and shares, include keywords as well as power words. Here's a great example of a killer title:

Another tactic is to use your keywords at the start of the title, then add a sub-header after a colon to drive clicks, like these examples: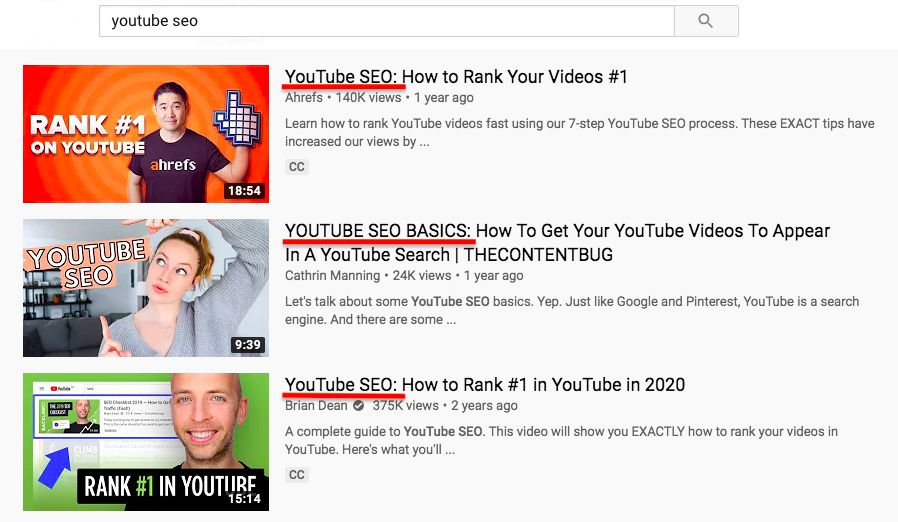 At the very least, your title should have 5+ words and include a broad target keyword. This will not only help you rank in Google's SERPs but also get you more clicks on YouTube.
Video Description – Because YouTube's spiders can't "read" videos, they will rely on your written description to determine its content. However, don't just throw in some target keywords. Think of your description as a short blog post that describes your video content in detail. It can be as short as this example from Growth Everywhere: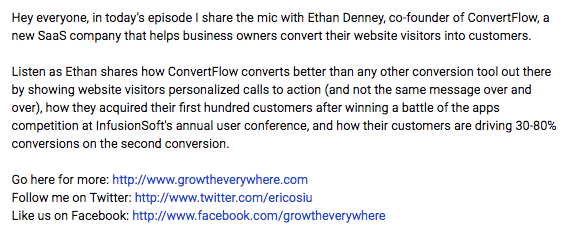 Or as long as this example from James Stafford: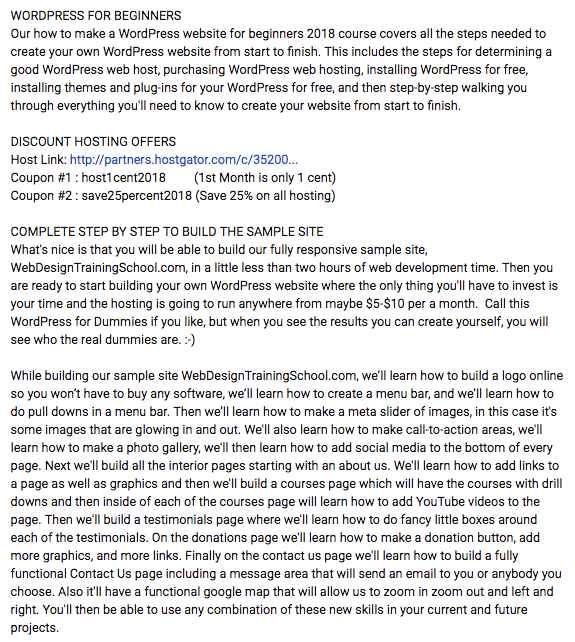 This tells Google — as well as your readers — exactly what your video is about. Since most of your competitors are unlikely to be doing this, it'll give you an instant upper hand.
Bonus: Use a video transcription service to turn your YouTube video description into a script of your entire video. That way, YouTube has tons of information to work from when deciding where your content should rank.
B) Create Custom Thumbnails
Most search engines use click-through rate as a ranking factor. If people are clicking your result when searching for a specific term, you must be offering something of value, right? Well, optimizing your video with an enticing thumbnail can help.
A great thumbnail should tell viewers exactly what the video is about. Don't use one of YouTube's screenshots of your video — instead, create a custom thumbnail that features a compelling image along with a title card.
Here are some thumbnail examples for the term "how to write a blog":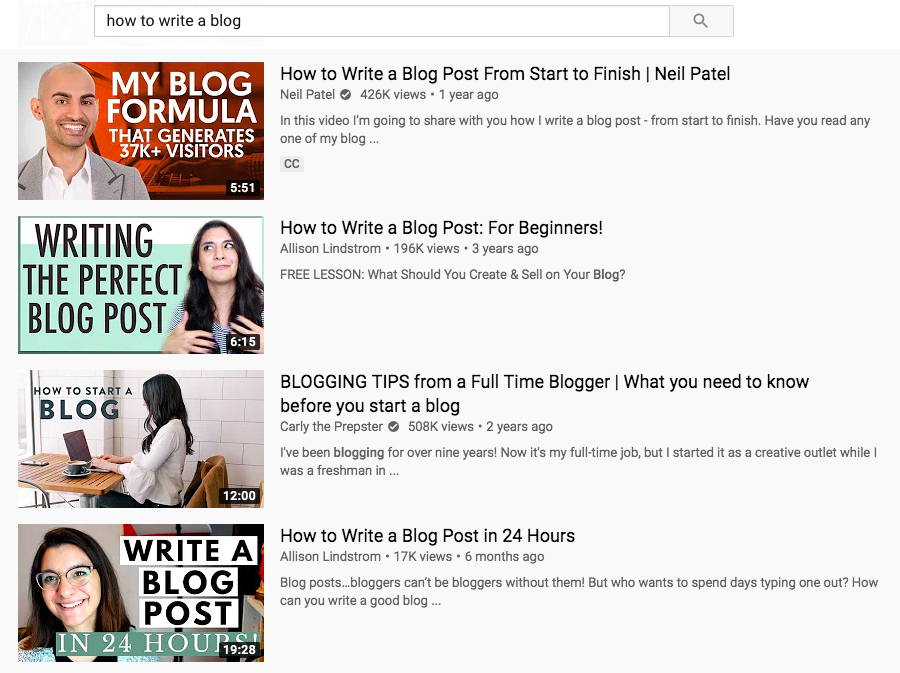 C) Create Video Playlists
Breaking down a subject or story into a series of videos, known as a playlist, that follow one after another encourages users to stay on your channel longer and interact with more of its content: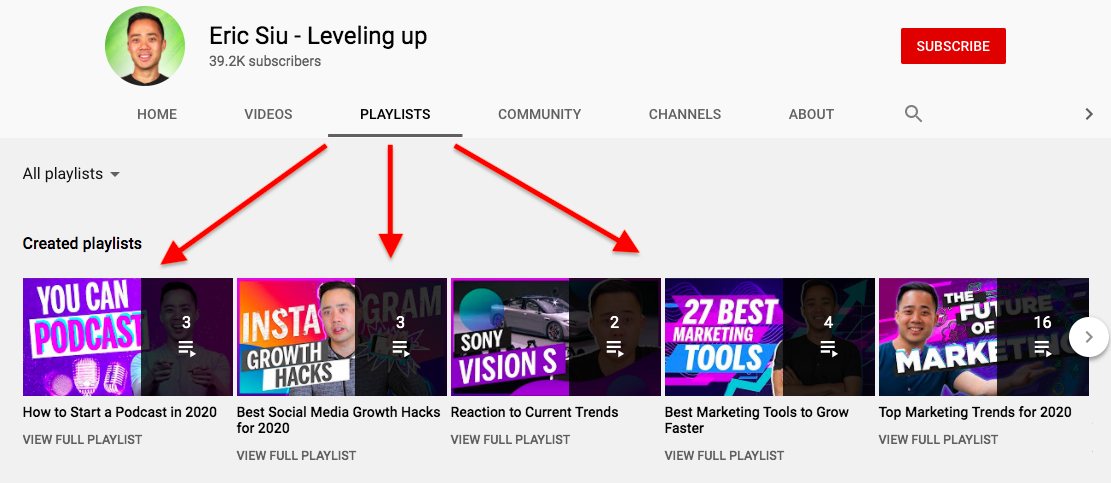 Not only will creating playlists entice users to return to your channel and watch your next upload, but YouTube's algorithm will pick up on this increased interaction and reward you by recommending your videos more often and positioning them higher in the site's search results.
Dive Deeper:
* The Ultimate Guide to YouTube Advertising in 2021
* These 7 SEO Tools Are Your Secret YouTube Marketing Weapon
* YouTube Analytics: How to Understand & Measure Your Progress
7) Create a Diverse Backlink Portfolio
Even in 2021, links are still a very important part of search engine optimization.

Keep in mind, though, that quality matters. Spammy links can hurt your site. Links from very low DA sites are unlikely to pass much value, while links from older domains have been shown to pass more value than those from newer sites.
Links that are earned, however — through high-quality content, outreach and influencer marketing — are safe and extremely effective.
But Google doesn't like to make things easy.
Contrary to what logic would tell us, sites with backlink profiles that consist almost entirely of extremely high-quality links may actually be flagged for a manual review. If you don't pass that because your site looks too squeaky clean, you could find yourself in trouble.
Thankfully, this rarely happens (hence why it can flag a review when it does). As sites grow and land links from bigger sites, they typically pick up links from smaller sites along the way. This diversifies your link profile and ensures that it looks natural to search engines (which is because it will be natural).
However, there are a couple of things to bear in mind that will make sure your link portfolio follows the sort of pattern Google expects to see.
When promoting content, don't only target the "big hitters." Smaller sites can offer value too. They're often more responsive and niche-specific, as well.
If you're going to disavow links, err on the side of caution. Disavowing too many links can be more harmful than disavowing too few. In fact, Google's now pretty good at recognizing bad links and choosing to ignore them. The search engine understands that most sites will naturally pick up a few bad apples, so if you're too liberal with your disavow, the only change you might make is getting Google to discount links that were actually helping you.
Dive Deeper:
* How – And Why – To Build A Backlink Portfolio
* The Ultimate Guide to Link Building with Content for SEO
* The Easy Guide to Broken Link Building for SEO
8) Never, Ever Overlook Technical SEO
You could be doing everything right, but if your site's not technically sound, it may well be underperforming.
Here are a few advanced search engine optimization techniques you need to consider regarding technical SEO.
A) Ensure that Your Entire Site Loads on HTTPS
HTTPS has been a ranking factor since 2014. Sites that aren't secure, or even sites with mixed security (i.e., some loads on HTTP and some on HTTPS — the "S" stands for secure), can struggle to rank. Today, a secure website essential.
Google has started to warn users when they're visiting non-HTTPS websites, and if you're yet to make the switch to secure, encrypted connections, you might be turning away a huge chunk of people willing to visit your site.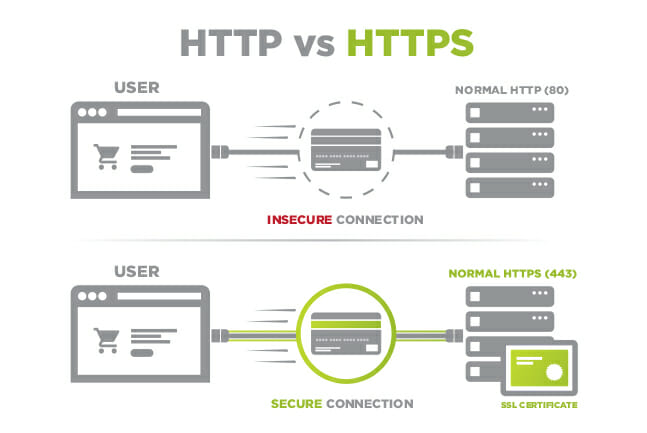 HTTPS is a best practice that will help your website boost its SEO presence, stay secure, and make it harder for malicious parties to break in and take advantage of your website.
If you're a smaller organization, your process will likely be less painstaking or time consuming, but either way, moving to HTTPS is a necessity in a world of cybersecurity threats and heightened SEO and SEM requirements.
Transitioning to HTTPS is easier said than done, and requires a multi-step process. Follow this guide to make the switch on WordPress.
Dive Deeper: How Poor Website Security Negatively Impacts SEO Rankings
B) Enable AMP for Mobile
AMP, or Accelerated Mobile Pages, began as a Google-backed open initiative that allowed publishers to easily create responsive, mobile-optimized content.
What is the difference between AMP pages and mobile-friendly pages?
As per Search Engine Journal:
"A responsive page or a mobile-friendly page is the same page of the website which is served in a different layout. The pages get displayed according to the device from which they are accessed. AMP pages are served to the user from the Google AMP cache. AMP pages have a different URL." 
Here's a visual example of the difference: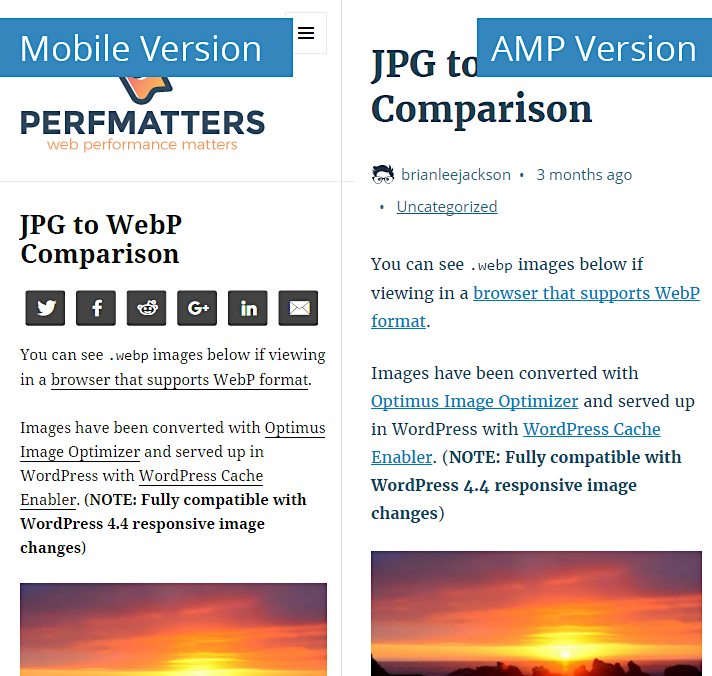 Envisioned as a way to quickly render content on mobile devices like smartphones and tablets, AMP combines three components:
HTML tags: which help common web patterns render quickly
AMP JS: a library that manages the resource loading and best practices necessary for fast rendering
AMP cache: a content delivery network that both loads content and ensures speed
For those of you who use WordPress, AMP should be much easier to implement than a home-grown CMS from scratch. To implement AMP in order to help cater to mobile searchers, check out this Google's guide.
Note: Because AMP pages have a different URL, there will be an issue of duplicate content unless you address that. As SEJ succinctly explains: If you have both AMP and non-AMP versions of your pages, include the following links: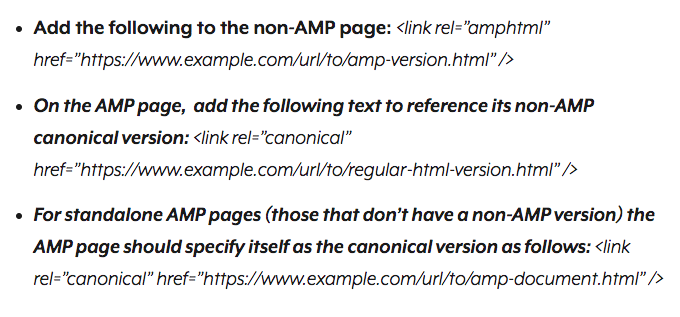 C) Invest in Crawling Software
These SEO crawler programs are similar to Google's own crawlers, and will give you insights into the technical health of your site:
Deep Crawl: Deep Crawl is a web-based crawler that checks sites for SEO health and viability. Deep Crawl will provide you with a laundry list of necessary improvements and errors, such as: duplicate content, broken pages, flawed titles, descriptions and metadata.
Botify: A cloud-based crawler that boasts big-name users like Expedia and eBay, Botify is one of the strongest crawlers available today, short of Google's own secret algorithms. Not only can Botify check whether Google has crawled your page, but it can also offer suggestions on how to restructure web content and site maps to optimize your web page for Google's crawlers.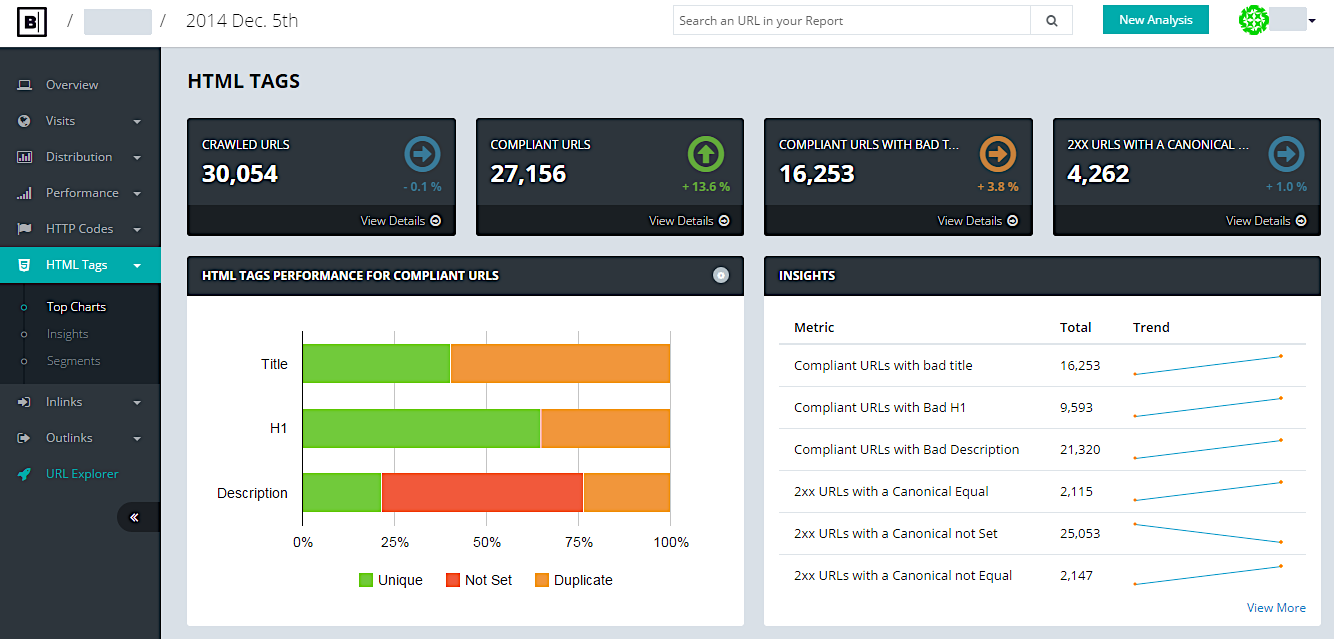 Unfortunately, Botify has become increasingly expensive and is now only realistically affordable to enterprise companies.
For affordable (and still effective) crawling software, you might want to look at one (or both) of the below options:
Screaming Frog: Probably the best-known crawler on the market, Screaming Frog may look intimidating at first, but once you know your way around it you'll appreciate it for its speed, power and efficiency.
Sitebulb: One of the newer crawlers on the scene, since its launch, Sitebulb's won multiple awards and has been touted by many as transforming the way we do technical SEO. In short, it does the hard work for you, detailing a site's technical problems in simple language, and explaining exactly what you need to do to fix it. It's arguably some of the best new SEO technology on the market.
D) Correct Your Semantic Markups
Semantic markups help Google understand your site — but only if they're correct.
Semantic markups are essentially HTML tags which help emphasize key information on your site. They tell Google's spiders what a page is about without needing to digest every word on the page.
Just take heading tags, for instance. Text wrapped in an <h1> tag is the page's main title and should give a brief explanation of the entire shared content on that page. Text wrapped in a <h2> tag are subheadings, and so on.
Here's an example heading structure:
<h1> The Ultimate Guide to Guest Posting
<h2> What is guest posting?
<h3> Benefits of guest blogging
<h3> 5 types of links you can build
<h2> How to write an awesome guest post
<h3> 1. Pick the perfect website
<h3> 2. Send an email pitch
<h3> 3. Write your content
Want to grow your organic traffic by 20-100%?We built ClickFlow, a suite of SEO tools designed to increase your organic rankings and scale qualified traffic for your website. Click here to learn more and get started.
E) Fix "Page Not Found" 404 Errors by Redirecting URLs
Following a link that leads to a 404 page with the text "Error: Not Found" is essentially a dead end. And nobody likes being stuck in a dead end — neither search engine spiders, nor your audience. So it's in your interest to fix these broken or missing pages and re-engage your users as soon as you can.
First of all, download your backlink profile using a tool like Monitor Backlinks. Backlinks that are pointing to a pesky 404 error page will be highlighted, so head to your Google Analytics dashboard to find out how many page views the 404 error page gets.
You might find that you're turning away 300 visitors each month because they're landing on a 404 page!
Keep those users around by using an SEO plugin like Redirection to redirect URLs of broken links to 200s. You'll want to redirect the broken page to the next, most relevant page to make sure they're not frustrated with landing on a totally different page than they expected.
Here's an example:

Redirecting broken pages to new URLs will boost user experience, while also regaining any link equity (or link juice) those pages were passing.
Bonus: You can also use the crawling tools mentioned above to identify 404 pages, or look in Search Console.
Dive Deeper:
* How to Fix 15 Common On-Site Technical SEO Issues
* 12 Reasons Your SEO Strategy Is Failing
* SEO & CRO: How Rankings and Conversions Complement Each Other
9) Target Local Searchers with Landing Pages and Listings
Almost half (46%) of all searches on Google are from people looking for local information. That could include:
Local shops
Opening hours
Telephone numbers
Addresses
So, if you have a brick-and-mortar business, you can't neglect local SEO and listings.
Here are three huge SEO techniques to capture potential customers who live locally. After all, 72% of people who perform a Google search for local businesses online end up visiting stores within a five mile radius!
A) Double-Check Your Directory Listings
As powerful as search engines like Google or Bing may be, they still can't be everywhere at once and sometimes have to rely on additional information from local data sources.
These sources can include directory listings, which gather, aggregate and submit relevant data for area businesses — information from physical directories (like Yellow Pages) or scanning business registrations.
In a nutshell: Bigger search engines (like Google) will rely on these data aggregators to fill in information gaps in their own databases, and will also cross-check information to make sure facts are up-to-date.
Problems arise, however, when aggregators collect out-of-date data, leading a search engine like Google or Bing to list the wrong information, such as an old address for your business or a disconnected phone number.
That's why it's critical to ensure that your physical contact information is up-to-date on every online listing you've created, including:
Google My Business: Because Google is the largest search engine, always start with Google My Business — a free-to-use listing service — and update your data accordingly. Be sure to include important details like extra locations, your latest opening hours, and what forms of payment are acceptable.
Local Directory Management Service: This service carries out the painstaking work of scanning countless local directories, interacting with data aggregators, and correcting outdated information. Moz Local and Yext both offer this service, which can help you avoid inconsistencies that can hurt your revenue stream — or even worse, trick Google's algorithms into thinking you're a different business entirely.
Build more directory listings using Local Data Aggregators: Now that you've got the information down to a T, roll that out by using a local data aggregator like Bright Local. That way, you don't need to painstakingly re-enter the same information over and over again, which is bound to lead to mistakes in itself.
From that point on, local search listings should be accurately and automatically updated by your management service. Oh, and remember to change all local listings if something changes — particularly when you move office or switch telephone numbers!
B) Build and Optimize Local Landing Pages
Let's think about the search terms people use when they're looking for local services. Chances are, they look something like this:
"SEO services in Los Angeles"
"Best blow dry in Manchester, UK"
"Where to buy candles in New York"
The only way to make sure you're reaching the shortlist of Google's SERPs is to actively target those keywords on your website — preferably with a local landing page. (A local landing page does what it says on the tin: targets people who are looking for something within a specific location.)
Just take a look at top organic results being shown for a local keyword:

Notice how they're all local landing pages for the Finchley area, rather than a homepage or general "washing machine repair" service page?
Create your own (and start targeting local searchers who're ready to visit your brick and mortar store) by:
Doing keyword research to find local keywords relating to your product or service.
Creating a new page on your website and optimizing it for those local keywords. That includes mentioning the phrase in your meta title, meta description, page title, heading tags, image alt text, and on-site content.
Building links from local directory listings to that page to strengthen location-based keyword rankings (e.g. If you're creating a landing page for London, build links from London-based directories to the landing page's URL).
C) Technical SEO for Local Search
Carrying out technical SEO for local search is a similar process to that discussed earlier, but here are some useful terms and techniques to ensure that you optimize your business for local searches.
Schema are basically brief snippets of data that provide extra information to users and search engines. Best of all, schema markups don't require any coding knowledge, and can be inserted through Schema.org, a rare collaboration between Google, Yahoo and Bing.
Schema is used on this listing, which gives local searchers extra information about the venue's hours, location, general information and more, without actually visiting the page itself: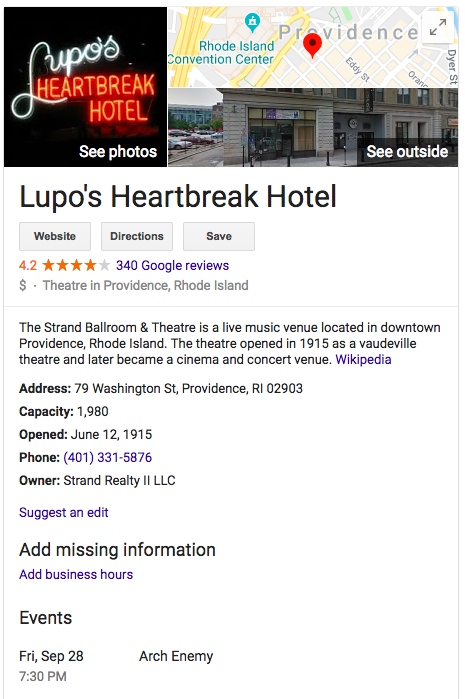 If you want to go a step further, you can also include a JSON (Javascript Object Notation) injection through Google Tag Manager. JSON is a form of data that is easily read by humans and artificial intelligences alike, and familiar to anyone who has ever used C++, Javascript, Python, etc.
With Google Tag Manager, however, it's easy to combine schema and JSON to further boost the strength of your schema, resulting in a higher CTR and visibility, and without having to spend precious time coding.
Granted, the learning curve is a bit steep for those who aren't familiar with Javascript or any other basic programming language, but once set in place, JSON injections can help execute and put structured data in place simply and efficiently.
Dive Deeper:
* 9 Factors that Can Immensely Boost Your Local SEO
* How to Do a Comprehensive Local SEO Audit
* The Complete Guide to Local SEO
10) Measure SEO Performance
Reporting and analytics are two critical elements of SEO — both of which are indispensable to improving your overall marketing strategies.
Effective reporting means that you can understand key questions such as:
What content really appealed to your customer?
What part of the website had the most UX issues?
Which page was the least (or most) visited, and why?
Which on-page SEO changes resulted in the highest rankings?
Which style of keyword should you focus on in future?
It's tricky to understand those intricacies (and use them to your advantage to make further improvements) without regularly monitoring and reporting your results.
Here are three tools you can use to do exactly that:
A) Data Studio
Interested in the ability to tie online data back to offline data in order to get a full 360 view of how your content and marketing is performing?
Google's Data Studio helps you to do just that by aggregating data (such as rankings, traffic and conversion data) from multiple sources into a single interface. It's a fantastic SEO tool for internal teams to use, but also a superb way for SEO agencies to share fancy reports with their clients.
But most importantly, the SEO metrics you're able to track with Data Studio can help you determine the effectiveness of your SEO strategy, and assess whether you need to pivot or change tactics for better results.

B) Wayback Machine
Always be aware of what your competitors are doing and how well it's working for them. What techniques are they using? How have they changed their approach? What mistakes have they learned from?
One great tool to see how your competition has changed is Wayback Machine, which allows marketers to access petabytes of archived web pages. By sifting through Wayback Machine's extensive database, you can track the evolution of your competitor's brand and web presence, taking note of factors such as:
Changes in UX design
Differences in copy from one web version to the next
Movements of key page elements, such as page navigation or calls to action
Still, you shouldn't implement something just because your competitor is doing it — whether that's designing a website a certain way or using specific copy or images. You've got to use your common sense, combined with industry knowledge, before giving your SEO team the go-ahead to copy their changes.
If used correctly, however, Wayback Machine has loads of interesting lessons to offer. Take a look at these two screenshots of Title Boxing.
This is a screengrab of their homepage from Wayback Machine, circa 2007: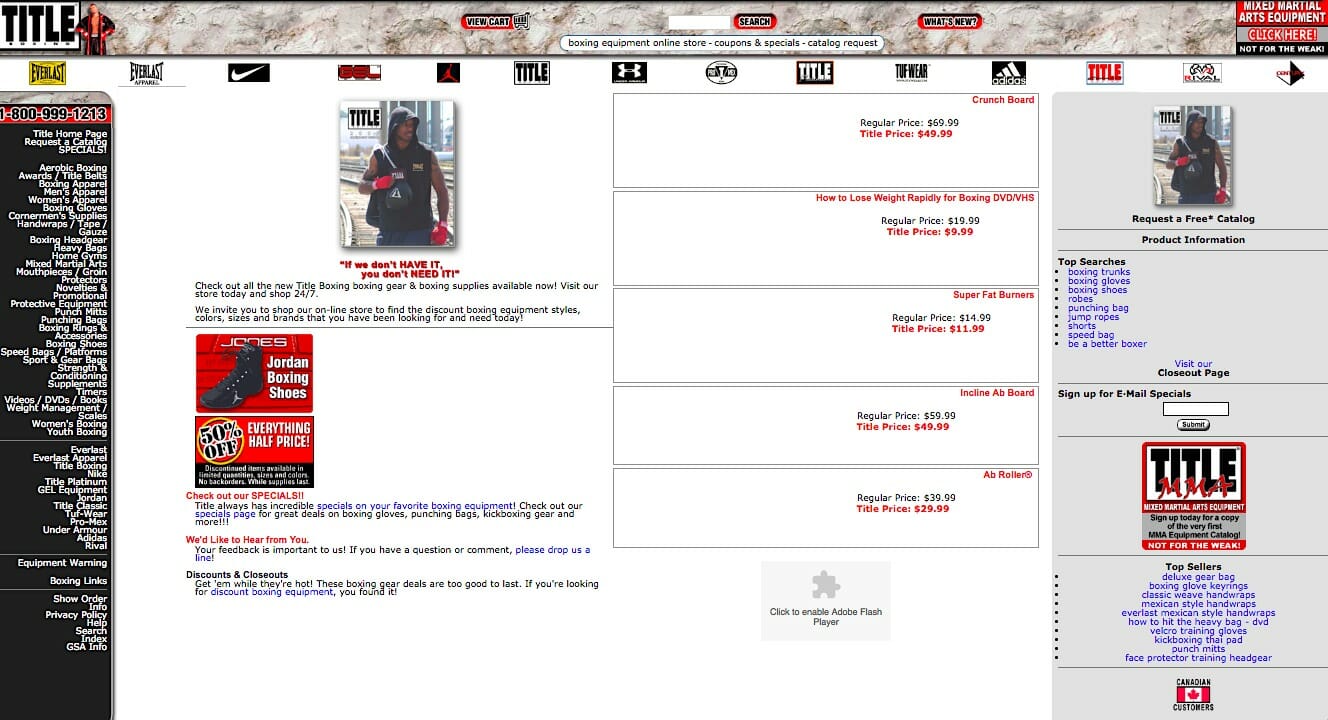 While this one is a screengrab from 2020: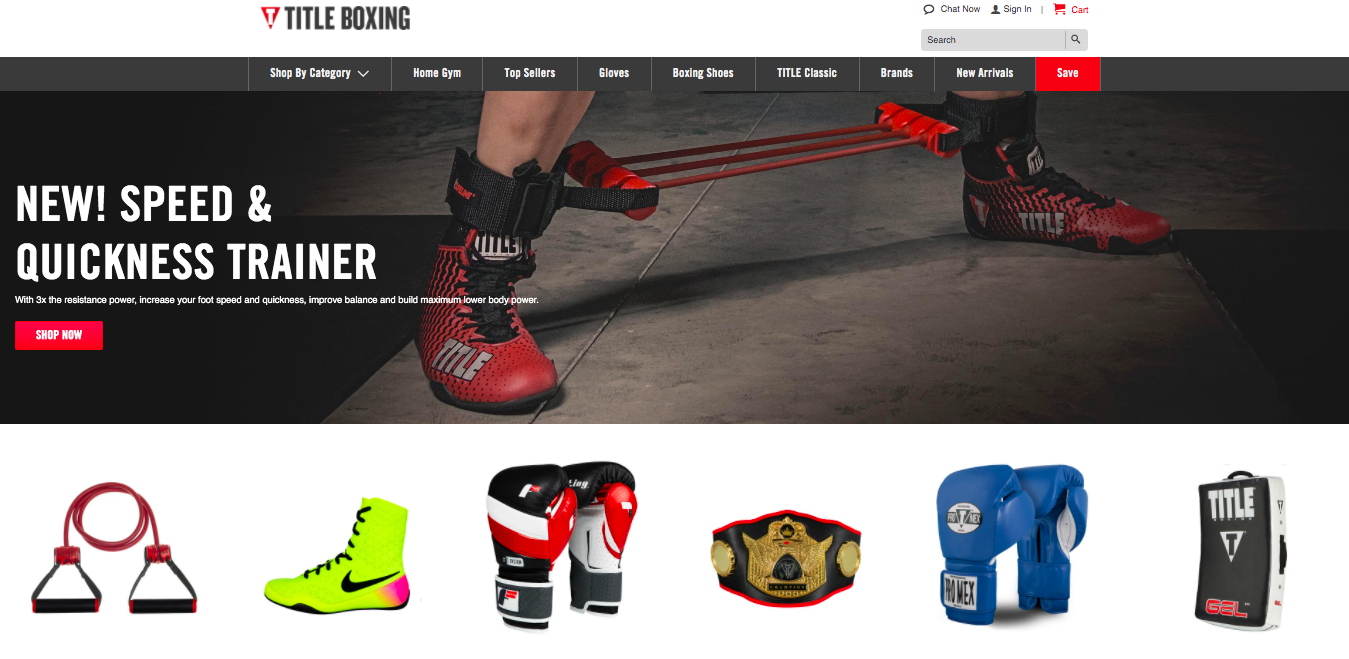 The differences are pretty clear. In 2007, the layout was cluttered and crowded, with small, hard-to-navigate sidebars squeezing some undersized imagery around daily specials ads.
Today, however, the user experience is much more streamlined. Visitors are greeted with a clear, easy-to-use menu at the top, labeled with categories like "Gloves" and "Punching Bags." A large, sliding image in the center replaces the tiny, hard-to-notice ads from 2007, allowing buyers to see exactly what is on sale.
In a nutshell: The new website is far more minimalist, doing away with the previous confused and chaotic format. That might be a change you'll want to think about implementing, too.
C) SEMrush
If you've followed this guide to a T, you might notice an influx of organic traffic arriving at your website from Google. That's great news, but how can you find out which keywords are driving the most results?
Enter: SEMrush, an SEO tool mentioned earlier, which is used by marketers to track ever-changing keyword ranking positions in various search engines (and much more).
D) Google Search Console
Google Search Console has come a long way since it was known as Webmaster Tools. It should now be a critical piece of weaponry in any SEOer's toolbox, and checked regularly. If Google doesn't like something about your site, Search Console may well be the first tool to tell you.
Dive Deeper: 10 Google Search Console Hacks to Boost SEO
Bonus Technique! ➡️ Test On-Page Elements
Once you've created a title tag, a meta description, and other on-page elements such as <h> tags, do you pat yourself on the back for a job well done and move onto something else? Or do you regularly check results and make changes accordingly?
The elements that live on a page's <head> section are fundamental to its performance — in terms of both organic rankings and clicks. If you're in the habit of optimizing these elements and then forgetting about them, you're going to be missing out on traffic, clicks and, consequently, sales.
Instead, get into the habit of testing on-page elements and tweaking them according to what you find. There are several ways to do this. A very basic method is to create your own tests and monitor progress in a Google Sheet or an Excel doc.
Alternatively, you can use a page element testing tool like Clickflow that tests, tracks and reports on your behalf. That means more time for you to work on the important parts — improving the elements themselves.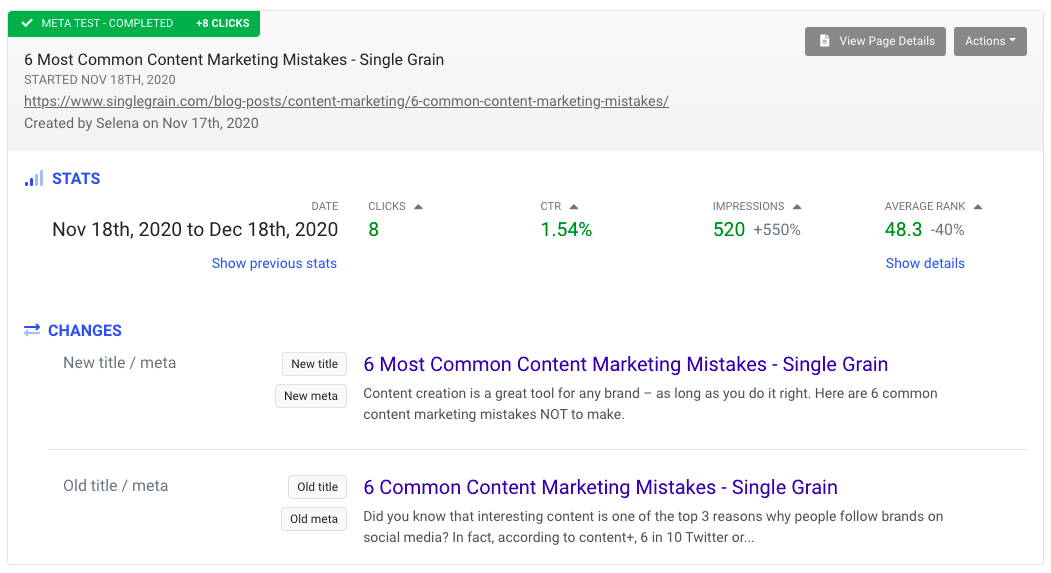 Keeping Up With SEO
As we know, SEO is rapidly evolving. Business owners and marketers have to adapt, and fast, but it's still possible to give your website the edge on your competition.
Make sure to spend time on the fundamentals of solid content creation and copywriting, and stay on top of technical trends as well as the impact of things like backlinks, site speed and schema.
There's a lot to consider, but remember you don't need to become the world's top SEO expert overnight. Make the effort to understand even the basics of SEO, and you'll see a big difference in your website's click-through rates, engagement and, of course, rankings.
This article was originally posted on Single Grain.